From The Canadian Jewish News, November 19, 1987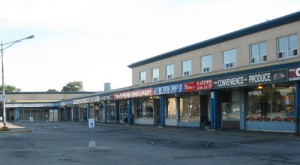 If you trace the path of the Toronto Jewish community for the past fifty years you will be taking a snapshot of Goodbaum's grocery stores as they marched north, eventually under the name of Sunnybrook Foods.
"We were at 180 Baldwin Street, 188 Baldwin Street, 374 College Street, 1001 Eglinton Avenue, 2016 Bathurst Street, 877 Wilson Avenue," said Julie Goodbaum, president of Sunnybrook Foods Ltd., rolling off the numbers as if they were permanently engraved in his mind.
This is the fiftieth anniversary of the business the late Joseph and Eva Goodbaum started in Kensington Market, a family undertaking in which Julie's two brothers, Mottel and Bert and Joe Altman, brother-in-law, also worked and contributed to its success.
That little store grew to be a chain of fifteen stores in Toronto, Oshawa, Brampton and Peterborough, but in the highly competitive and fast0chaning grocery business, Sunnybrook shifted to a volume discount-type operation and now instead of fifteen stores has the big store on Wilmington Avenue, one in Peterborough and two warehouse stores in Brampton and Richmond Hill, employing a total of 300 people.
Julie, the oldest boy in the family, made the grocery business his life. After Lansdowne public school, he managed a couple of years at Dominion Business College and took some courses at night. But his biggest interest was the store and that hasn't changed.
At sixty-six he gets up with the birds to buy fruit and vegetables at the big terminal in Etobicoke. The market opens at 6:30 a.m. but Julie's there an hour earlier, searching out the freshest and best-priced produce.
No prisoner of the executive suite, Julie still walks through the company's huge warehouse on Steeprock Avenue in North York, with a spring in his step and a knowing eye. The mountains of cases of produce from all parts of North America and overseas are a far cry from the six-quart baskets and bushels in Kensington.
The Steeprock address where Sunnybrook as been located for fifteen years, is also the head office and portraits of Joseph and Eva Goodbaum have a place of honour on a wall near the front door.
"In our Wilmington store we have the largest variety of kosher food and the best prices in the country," Julie said proudly, claiming to regularly undercut the big chains.
Despite the energy he pours into his business, Julie still finds time to be active in the Beth Sholom Synagogue, where he was treasurer, and to take part in Jewish community affairs, where one of his interests is supporting the Herut Party.
Julie and his wife, Esther, have two daughters, Nina Lurie and Harriet Borins, and three sons, David, Mark, a doctor, and Zellick, who is in the retail and wholesale jewelry business. They have twelve grandchildren. ♦