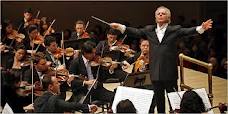 Seven years ago the Argentine-Israeli conductor Daniel Barenboim and his close friend, Edward Said, the late Palestinian-American intellectual, jointly established an orchestra with talented young classical musicians from Israel, the Palestinian territories, Egypt, Lebanon and Syria.
Unable to meet in their home countries, the participants spent several summers making music in Spain, where the experience melted away longstanding mistrusts and forged a temporal cordiality among many of them. "Israelis, to me, were not human even," a Jordanian musician said, recalling his feelings before joining the group.
Under Barenboim's powerful and almost spell-casting baton, the West-Eastern Divan Orchestra unified into a cohesive unit and gave concerts in Europe, Morocco, Israel and the West Bank. The achievement earned Barenboim and Said a prestigious Spanish trophy, the Prince of Asturia award, for "improving understanding between nations."
Barenboim also received the Wolf Prize at the Israeli Knesset, but not without controversy. Upon hearing his politicized acceptance speech, cabinet minister Limor Livnat criticized him for using the Knesset podium "to attack the state of Israel" and expressed dismay that he had been honoured at all.
The Knesset award ceremony, which European filmmaker Paul Smaczny filmed as he tracked the orchestra's progress over five years, provides one of the few rancorous passages in this otherwise sugar-coated pill of a documentary, which at 91 minutes may be too large for some viewers to swallow.
Knowledge Is The Beginning purports to be about uniting young people of divergent nationalities and ideologies for the higher purpose of music, but politics is a strong sub-theme and the production, which is European-made, seems unfairly antagonistic to Israel. For example, it opens and ends by vilifying Israel's security fence — the so-called "Wall" — but presents only one side of the story.
Barenboim, who aroused strong feelings in 2001 by playing Wagner music in Israel, receives high praise throughout for his dedication, patience, vision and inspiration: but since the film was co-produced by the Barenboim-Said Foundation, could it have been otherwise? Said, too, is given enormous homage. No attempt is made to counterbalance the voice of the notorious anti-Israel polemicist who was caught throwing stones in the intifadah and fabricating key sections of his autobiographical writings.
Knowledge Is The Beginning falls into a naively optimistic genre of film that has been well represented in Jewish film festivals since the Oslo peace accords of the mid-'90s. According to the formula, Palestinian and Israeli are thrown together in some common project or purpose, and learn to tolerate and even like each other for the duration.
Now that Oslo is dust, now that Hamas reigns in the Palestinian territories, this cinematic genre no longer inspires hope and has become tiresome. In this light, Barenboim's peaceful overture falls flat and seems an undeserving subject for a film. Its best moments, highlighting the extraordinary musicality of a few gifted youngsters, are few and far between.
Knowledge Is The Beginning is being shown at the Bloor Cinema, Sunday May 14, 9:30 p.m. as the festival's closing film. ♦
© 2002