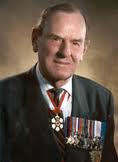 Barney Danson, who served as the Member of Parliament for York North from 1968 to 1979, has published a book of memoirs, Not Bad For A Sergeant, that is must reading for anyone interested in Canadian politics and the Trudeau legacy in particular. Jewish readers will find the book especially illuminating because of the light it throws on diverse matters regarding Middle Eastern politics and the Jewish world.
Born in Toronto in 1921, Danson quit school at age 16; a year later he joined the Queen's Own Rifles, which was mobilized to fight in the war in Europe in 1940. Danson was severely wounded in Normandy in August 1944 and lost the sight of one eye, but he writes that he considers himself fortunate since four of his close friends were killed in battle.
After the war he ventured into industrial plastics and established the Danson Corporation, which blossomed into a multi-million-dollar concern. Holding the belief that "if you fought for your country you had a right to play a part in shaping its future," he joined the Liberal party in the closing days of the Lester Pearson administration, and made a failed bid for a parliamentary seat in October 1967.
Fortunately, he tried again in 1968: "With the campaign on, and Trudeaumania sweeping the country, we could smell victory in the air right from the start." The day he took his seat in the Commons chamber, he "looked around at the elegant carvings and stained glass windows" and felt a sense of awe and respect.
In 1970, Danson became parliamentary secretary to Pierre Trudeau, and, though not having yet penetrated into Trudeau's innermost circle, observed how fully the October Crisis preoccupied him. He describes subsequent travels around the globe with the prime minister and entourage, and meetings with Indira Gandhi, the Shah of Iran, Alexei Kosygin and other world leaders.
Since the Russian trip occurred at the height of the global Jewish campaign to free Soviet Jewry, Trudeau raised the issue with his Soviet counterparts; he was quite persistent, Danson recalls, and linked it with matters of genuine interest to the Russians. Danson credits Trudeau along with US President Richard Nixon for helping to open the floodgates of Jewish immigration from the monolithic communist state.
Danson, who subsequently held the high-profile cabinet portfolios of urban affairs and then defense, was rarely idle. He chaired Habitat, a UN forum on human settlements that was marred when the Arab delegates walked out as the Israeli delegate rose to speak. Much later, he conceived of and helped establish Katimavik, an innovative and much-lauded program for Canadian youth.
Visiting the Middle East in his role as defense minister, Danson endured "what was probably the most difficult official visit of my life" with Syrian defense minister Mustafa Tlass. Days earlier, Tlass had apparently declared publicly that Syria intended to kill every Israeli and that he was personally prepared to "rip out their throats" with his teeth. "A sweet guy," Danson observes of the man who likely knew full well that he was Jewish; Tlass still heads Syria's defense ministry.
Egyptian President Anwar Sadat gave him a decidedly brighter message: "If the Israelis want to talk peace, we are ready." Danson duly relayed those words to Israeli officials, and Sadat's famous visit to Jerusalem occurred a few months later. "… I like to think that, in my capacity as a courier, I may well have contributed to this historic development," he writes.
He also gives us his impressions of a spectrum of Israeli leaders from Golda Meir to Ehud Barak. He is most critical of Benjamin Netanyahu and most complimentary to Shimon Peres.
Not Bad For A Sergeant touches upon many aspects of a full life. It is well written, perhaps surprisingly so for someone who has been legally blind for the last five of his 80 years. Danson credits his writing partner, Chris Fahey, for the book's even flow and readability.
My only disappointment was that Danson glosses over his family history in only a couple of paragraphs. Certainly, more could have been made of a grandfather also named Barney Danson — who came to Toronto in the 1870s and left an estate that in 1919 was valued at about a quarter of a million dollars. ♦
© 2002