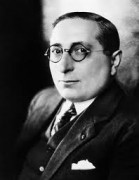 Louis B. Mayer, the Hollywood titan who built and ran Metro-Goldwyn-Mayer as his personal fiefdom for three decades, was "probably the greatest single force in the development of the motion picture industry to the heights of prosperity and influence it finally attained," according to Variety, the film industry Bible.
To those who knew him, Mayer seemed as powerful, fearsome and perhaps at times even as carnivorous as the famous roaring lion that opened the countless films that his vast studio produced: the list includes The Wizard of Oz, Meet Me in St. Louis, Ninotchka, The Thin Man and An American in Paris. The studio was especially famed for its musicals featuring the likes of Fred Astaire, Ginger Rogers, Gene Kelly, Judy Garland and Debbie Reynolds.
A Russian-born Jew who spent his early years in Saint John, N.B., where his family had a scrap metal business, Louis B. Mayer (1885-1957) built up an early chain of movie houses in the eastern United States and made his first fortune by purchasing the rights to D. W. Griffith's colossal commercial success, Birth of a Nation, for the New England states. He is credited with helping to establish a cinematic image of Middle America as innocent and wholesome as, say, Judy Garland and Mickey Rooney as they appeared in MGM's famous series of Hardy family films. As Scott Eyman suggests in his engaging new biography Lion of Hollywood: The Life and Legend of Louis B. Mayer (Simon & Schuster), Mayer simply universalized the traditional family values that he absorbed from his father and mother.
Far from harbouring any lofty or high-falutin' notions of art, the film industry pioneer is depicted as an uncultured sentimentalist who preferred best-sellers to classics. He saw motion pictures as "beautiful photographs that move" and felt that things that were too dark, unpleasant or realistic, or that otherwise made audiences squirm, had no place on the screen. Movies, he felt, should offer a sanitized version of life. Once, on the set of a film starring Myrna Loy, he insisted the director reshoot a scene in which she awakens in the morning with untidy hair. In the retake, she rises from bed looking as if she'd just come from a beauty salon.
As one of America's most influential citizens, Mayer walked in privileged circles: he made and broke careers, hobnobbed with presidents and industrial magnates, and was variously loved, respected, feared or despised by everyone who was anyone in Hollywood. As Eyman meticulously chronicles through a rich parade of anecdotes, Mayer's personal sense of power knew no bounds. For instance, soon after Edward VIII abdicated the British throne in 1936, the studio magnate wanted to hire him to head MGM's European operations. "How much do you think he gets?" he asked his advisors, who delicately dissuaded him from cabling a lucrative offer to the ex-monarch.
Mayer built an extraordinary motion picture factory from the ground up, one that seemed to churn out product as reliably as an automobile assembly line. He devised a writer mentoring program through which groups of up to a dozen veteran and novice writers shared offices, ate together, looked at movies together, and rehashed old scripts in search of new workable ideas. At one time MGM employed 15 readers in New York and ten in California who read 20,000 novels, stories and original scripts a year. (His chief reader, Kate Corbaley, went home nightly with a stack of books and returned the next morning having read and digested them all. Known as "Mayer's Scheherazade," she could recount a story so well that he could visualize the settings as well as the stars.)
Eyman gives us the inside track on the making of many films, both famous and forgotten, and recounts episodes involving many celebrated producers and directors from Dore Schary to Nicholas Schenck, and especially Mayer's uniquely talented assistant, Irving Thalberg. However, his primary concern is Mayer himself, and discussion of MGM's huge vault of films is by necessity abbreviated. Thus, we are given only the tantalizing bare facts regarding director Victor Fleming's annus mirabilis of 1939, the year he directed most of two back-to-back American cinematic classics, Gone With the Wind and The Wizard of Oz: "Mayer yanked Victor Fleming off The Wizard of Oz, threw him onto the set of Tara, and had King Vidor finish Oz. Everybody at the dance had changed partners, and Mayer finally had what he wanted." Like a good entertainer, Eyman leaves us wanting more.
Knowing the machinery of Hollywood from the inside out, Mayer believed that it was his own correct choices — not someone's innate talent or screen appeal — that made an actor like Spencer Tracy or Clark Gable great. He contended that he rescued Tracy from being just a reasonably good character actor playing unmemorable villains because he saw something wonderful about his face. "We signed him, found just the right stories for him and he became Spencer Tracy the star, not Spencer Tracy the actor. We did that; no drama school did. We did it with the stories we picked for him, with cameras and lights and music and a hundred tricks."
He usually had terrific instincts about how to present his stars to the public, and knew, for example, not to attempt to turn a romantic heart-throb like Gable into an on-screen intellectual. "Don't put one thought in his head," he instructed his scriptwriters. "Write the story from the neck down. Action only. Keep him doing something. When he talks, all they've got to do is hear his voice. He doesn't have to say anything that means anything."
Because he had invested so much in his stars, he felt entitled to dictate their personal lives. Like other MGM actresses, June Allyson dropped a boyfriend on Mayer's insistence, but when she began dating Dick Powell and was again ordered to stop, she refused; her "tactical master stroke" was to ask him to give her away at the wedding. A dreaded bully who didn't pull his punches, Mayer could reduce the meek to tears through ruthless negotiation tactics involving shouts, insults, tirades and worse. "If the tirade didn't achieve the desired results, Mayer would escalate into a full-scale tantrum, hurling himself to the floor, and rolling around on the rug," Eyman relates. "The resemblance to a brattish six-year-old was either amusing or horrifying, depending on your tolerance for juvenile misbehavior."
His weak spot was his sentimentality. Once, when actress Ann Rutherford told him she needed to buy a house for her mother and grandmother, tears welled up in his eyes and he readily acceded to her requested raise. On another occasion, hearing that former child star Jackie Coogan was suing his mother for the money he had made as a child, he offered Coogan a $2,500-a-week contract provided he dropped the lawsuit. When Coogan refused, Mayer angrily told him he would never work in Hollywood again. "No red-blooded American boy sues his mother," he fumed.
Still, his familial relations seemed to reflect little of the warmth and purity that he and his studio generally espoused. He neglected and then divorced his first wife, Margaret, and had poor relations with their two daughters. (Daughter Irene ignored his orders and happily married the talented movie producer, David O. Selznick.) On the plus side of the ledger, he hired so many relatives — his own and his wife's — that insiders joked that the true meaning of MGM was "Mayer's ganze mishpocheh."
Ultimately, due to his short-sighted habit of taking compensation in the form of cash instead of stock, Mayer lost control of the studio after a prolonged and debilitating power struggle. Would a kinder and gentler person have held onto the reigns of power so long and so effectively as Louis B. Mayer? Upon his passing, son-in-law Selznick wrote that "it is as though we had all lived fearfully in the shadow of a magnificent, forbidding Vesuvius, which is now suddently removed: no more the little arbors huddled up on its slope, no more the threatening lava . . . ."
As Eyman astutely observes, the legendary lion of MGM was motivated throughout his life by a desire to belong and be accepted as an American. For that reason, he used his Yiddish only with a few trusted associates and, out of fear of sparking an antisemitic backlash, rarely allowed references to the Jewish people in the studio's films. Yet it was his fundamentally Jewish concept of "home," universalized for mass consumption, that became his hallmark, Eyman concludes. "It's no accident that the primary motivation in so many of the great MGM films, from The Wizard of Oz to Meet Me in St. Louis, from The Human Comedy to The Yearling, is home — its creation, its preservation, or returning to it," he writes.
Lion of Hollywood: The Life and Legend of Louis B. Mayer is a richly detailed and eminently readable biography that will appeal to all fans of the popular American cinema. ♦
© 2005