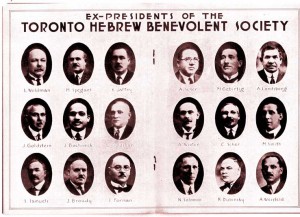 The Toronto Hebrew Benevolent Society, the oldest Jewish mutual benefit society in Ontario, and possibly in Canada, has been serving the needs of its members for more than a century.
The benevolent society recently celebrated its 110th anniversary with a dinner and dance at Beth Torah Synagogue.
Howard Federman, a fourth-generation member, is the organization's newly elected president.
The society was founded on January 15, 1899, when some 15 men gathered at 10 Armoury Street in Toronto. Federman's greatgrandfather, Morris Spiegel, who emigrated from Hungary, was a founding member of the organization, and Louis Brand was its first president.
Federman's father, Stan, is active with the Toronto Hebrew Benevolent Society (THBS), particularly working with Steeles Memorial Chapel, which was founded by Spiegel. Federman's uncle, Wilfred Ross, a grandson of Spiegel, was the organization's longest-serving president.
Today, the benevolent society has more than 200 members, both men and women, who meet at least four times a year to hear speakers and to discuss philanthropic endeavours. THBS supports many Jewish and non-Jewish charities.
"Throughout the years, we have continued to increase the number of organizations we support both locally and in Israel," Federman said.
"During World War II, we sent comfort boxes to servicemen overseas and supported programs at Camp Borden. We also established five perpetual scholarships at the Hebrew University in Jerusalem."
Before the advent of public health care, the society provided hospital and medical benefits, with doctors on call for its members, Federman said.
"We also have a sick-benefit fund, which provides certain benefits when a member is ill and needs assistance, which is provided strictly confidentially and it is never discussed at any meetings," he said.
THBS provides burial plots for its members and maintains its cemetery properties.
An annual Chanukah party, which the society holds for its members, is a charitable effort. "We also invite non-members, as well as families with children from Jewish Family & Child. Many of them would otherwise find it difficult to provide gifts and entertainment for their children," Federman said.
"We also sponsor an annual picnic, where non-members are invited. This has become a favoured family outing."
Federman said that an important part of benevolent society membership is visiting sick members and attending members' funerals. "We hope that all our members, including new members, will be able to perform this important duty."
He stressed that THBS is not a fundraising organization and that most of the money it raises comes from members' dues. The society has a charity board that carefully researches numerous charities to determine their needs.
THBS supports Beit Halochem, which helps disabled veterans in Israel; the Canadian Cancer Society; the Heart and Stroke Foundation; the Israel Cancer Research Fund; Jewish Family & Child; the United Jewish Appeal; the United Way; hospitals and more.
"We welcome everyone, particularly people who are not affiliated with a synagogue or do not have a cemetery property," Federman said.♦
This article originally appeared in the Canadian Jewish News and appears here courtesy of the author. © 2009 by Cynthia Gasner