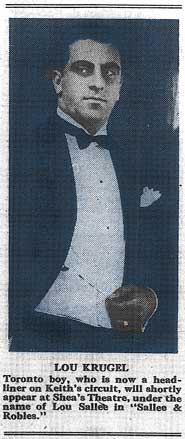 Berel, Mattes and Chaim Srul Krugel arrived in Toronto in the late 19th century, according to an article that appeared in the Canadian Jewish News on July 4, 1985.
More than 70 family members held a family reunion in Toronto, the paper reported.
The Krugels were from Galicia and came here between 1893 and 1895. At first Berel and Mattes lived on Gerrard Street and Chaim-Srul lived on Walton Street, according to Harvey Freeman, whose mother Sarah was Berel's daughter. The family reunion was purposely held very near the same spot, at the Delta Chelsea Inn on Gerrard near Yonge and Walton.
The three Krugels were founding members of the Shomer Shabbos Anshei Ostreich Minhag Sepharad Synagogue, otherwise known as the Austrian or Galicianer Synagogue. Some of their children moved from Toronto to cities like Detroit, Chicago and "points West."
One descendant, Murray Krugel, was a Canadian amateur middleweight wrestling contender in the late 1920s and came close to being chosen for the Canadian Olympic team. Then, in August 1933, he was pitted against another sort of enemy: members of a so-called Swastika club during the infamous Christie Pits riots. He wound up confiscating the nazi flag. During World War Two he served as an unarmed combat instructor with the US army.
Louis Krugel served with the Royal Canadian Coast Artillery in Halifax during World War One. Later, under pretext of becoming a cantor, he went to New York and got involved in show business, forming a song and dance act known as Krugel & Robies. Eventually he returned to Toronto and became an assistant to E. P. Taylor.
Family members took a bus tour through the old Jewish neighbourhoods in Toronto's downtown, which "was like an Egged bus trying to maneuver through the shuk in Jerusalem," Freeman commented. ♦