Appeared originally in Beth Sholom Bulletin, Toronto, 2013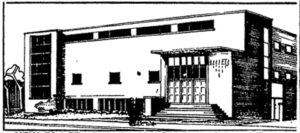 Sylvia Banack and her husband Henry Banack joined Beth Sholom as founding members in 1946, and their eldest children, the twins Auby and Arlene, had a joint bar-mitzvah and bat-mitzvah in the shul in 1957. It was, Sylvia recalls, the congregation's first bat-mitzvah ceremony.
Next year [2014], two of Sylvia's great-grandchildren — who are also boy-girl twins — will ascend to the bimah at Beth Sholom to read from the Torah on the occasion of their join bat- and bar-mitzvah.
"The tradition carries on," says Sylvia with a proud smile.
Now 93 years old and living at The Terrace Residence on Ameer Avenue, Sylvia has been a member of Beth Sholom continuously for 67 years, and for most of that time her seat in the sanctuary has remained the same. Whereas in the early days only she and Henry attended, now her children, grandchildren and great-children join her on the High Holidays, taking up much of two rows.
(How many grandchildren and great-grandchildren does she have? "Not enough," she replies. "I've got a lovely garden and it's growing.")
The former Sylvia Blackstien (spelled with the "i" before the "e") was born in Toronto in 1921 to parents who had emigrated from Staszow, Poland. Her father came to Toronto twice but returned both times to Poland, considering it too hard to remain Orthodox here. He came here a third time in 1914, but then was unable to bring over his wife and children because the First World War intervened.
"My mother had ten children when the war broke out in 1914, and seven were lost in the war," Sylvia relates. "She came here in 1920 with three children." Her two older brothers, Sam and Max Blackstein, grew up in Toronto and were lifelong members of Beth Sholom.
Her parents, Feivel and Malka Blackstien, operated a second-hand store on Queen Street West near University Avenue; the family lived above the store and belonged to the Stashover Shul on Dundas Street West near the Art Gallery. "There were synagogues and shtiebls on every corner in those days — on D'Arcy, Cecil, Beverley, Spadina," Sylvia recalls.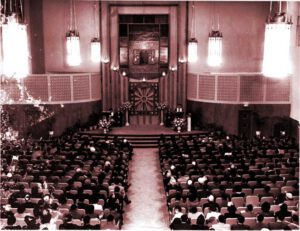 It was Rabbi David Monson who performed the ceremony when she and Henry were married in 1942. The couple lived with her parents above their Queen Street store for some years until they purchased their first house on Rushton Road, just north of Vaughan. "My brother said, 'We'll see you once a year — it's out of town,'" she remembers. Later the Banacks moved to a house on Ridelle Avenue at the corner of Burmont.
When Sylvia's twins were small, she wanted a good place for them to play in the summer and rented a cottage at Tent City, a tiny village south of Barrie on Lake Simcoe. Offered a good deal on a group of cottages, she grabbed the opportunity and became a property owner and landlady. "I paid $25,000 for the whole shebang," she recalls, adding that she was able to get a bank loan and later sold off chunks of the original package. "I left myself nine cottages and then I sold three more. My children love it and they still go out there; my grandchildren go out there, too."
Sylvia and Henry had four children — Auby Banack, Arlene Lapowich, Larry Banack and Fern Kirshenblatt — but their marriage was cut tragically short when Henry, a hotelier, died in 1965 at age forty-four.
Henry had always promised to take her to Israel on their 25th wedding anniversary, but he died the year before. Still, Sylvia yearned to see Israel. "My accountant said, 'You can't afford to go,' and I said, 'You'll tell me when I come back.' Henry had promised to take me and I was going to go — and I did."
"I don't know how I did it, but I put four children through university — they are all professionals. I made four bar and bat mitzvahs and I made four weddings."
Active in the Sisterhood, Sylvia used to escort groups of Beth Sholom members to the Holocaust Museum in Washington DC and on day-trips to Kew Beach and Cherry Beach in east-end Toronto. The Banack and Blackstein families sponsored memorial windows in the sanctuary and in the downstairs chapel.
"I enjoyed going to Beth Sholom, my mother used to go, too. I enjoyed the holidays and the festivities; I felt at home. I especially enjoy going now, with our new rabbi."
Sylvia remains highly active at the Terrace, participating in a range of activities from exercising in the gym to singing in the choir. "I don't have time to sit in my room," she declares. "We have excellent health care — I don't think I'd be here if it wasn't for the Terrace."
Does she have any advice for those intending to stay reasonably healthy until well into their nineties? "It's the luck of the draw," she offers. Then she thinks a little further on the question and adds: "But it's a good idea not to get sick." ♦
◊ Sylvia Banack, nee Blackstien, died peacefully in her 95th year on December 8, 2015. Beloved wife of the late Henry Banack; loving mother and mother-in-law of Aubey and Marilyn Banack, Arlene and Don Lapowich, Larry and Arna Banack, and Fern and Steven Kirshenblatt; cherished Bubie, Great Bubie and Aunt.
Above: Drawing of the proposed Beth Sholom shul from Toronto Star, 1947; and the main sanctuary in the 1950s.