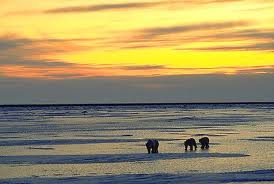 About the time Alberta-born Doug Webber moved to Churchill, Man., with his family in the early Sixties, the remote Hudson Bay community had a population of about 7,500 residents, many of them attached to the NASA space port and the Canadian and American military bases there that have since closed down. "Those were the days when airplanes from the U.S. Strategic Air Command were circling over the Arctic, ready to blow Russia into a million little pieces if the Russians so much as made a wrong move," recalls Webber, Churchill's mayor for the last five and a half years.
Although the town's present population of roughly 1,100 represents a 30-year low, Webber says he expects to see about 4,000 residents here by the end of this century, and 10,000 a decade after that. He offers persuasive evidence that Churchill (situated about 1,000 kilometres north of Winnipeg) is on the rebound. Two years ago, Winnipeg-based Akjuit Aerospace Inc. reopened the local satellite-launching facility which, as Spaceport Canada, is the only polar space port on the planet. As well, Churchill's deep-sea salt-water port, which is closer to Europe than to Montreal, still operates as a major intercontinental terminal for Prairie wheat shipped north by rail. And most important, according to Webber, is the continuing boom in eco-tourism that began after National Geographic's phenomenally popular documentary on Churchill's migrant polar bears was first televised about a decade ago.
Today, the Polar Bear Capital of the World receives some 10,000 visitors annually from as far afield as the United States, Europe, Japan and Australia. Most come to see the shaggy white animals that gather by the hundreds along the coast of Hudson Bay in October, waiting for the big freeze so they can venture out onto the bay. But increasing numbers of visitors are drawn in other months by the beluga whales in the Churchill River, the more than 200 species of birds that overfly the town, the aurora borealis that dances overhead, and the profusion of colorful wildflowers that carpet the tundra underfoot.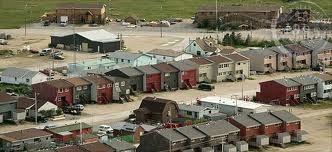 Migrating from the Pacific and Arctic Oceans, pods of hundreds of beluga whales congregate and calve near the mouth of the Churchill River from mid-July through August. Sonar-equipped tour boats enable visitors to hear as well as see the whales. "The beluga whale has been dubbed the sea-canary," says Lynda Gunter, owner of Frontiers North, a Winnipeg-based tour company. "They emit many high-pitched squeals and whistles, and they're obviously communicating with each other. Many people ask if the sounds can be translated, but so far we don't know what they're saying."
The whales seem just as curious about human beings as we are about them, according to Sandra Janzen, a co-owner with her husband Dale of Fehr-Way Tours Ltd. of Winnipeg. "You can actually have eye contact with them — I've experienced that twice. It's a magical moment: they have smiles on their faces, and as they look at you they seem to be evaluating the whole human species."
Late May to early July is the ornithological season. Churchill is regarded as one of the best spots in North America to observe avian wildlife, and birders flock here from all over the world. Birdquest, a British ecotourism company, offers only one tour in North America — to Churchill and northern Manitoba — "because Manitoba offers the best bird-watching in the most concentrated landscape," says Daniel Weedon, owner of Churchill Nature Tours.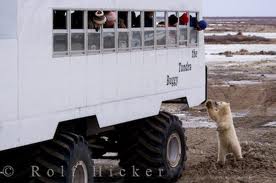 Weedon points out that just as Churchill sits on the juncture of the Churchill River and Hudson Bay, the town likewise straddles three distinct biological regions. "You're standing on Arctic tundra, and you can see the great Canadian Shield boreal forest on the horizon," he says. "So with the boreal forest animals, Arctic animals and marine coast animals, you've got maximum bio-diversity."
Churchill has an equally rich cultural history, since the area was common ground for the Inuit, who were traditionally a coastal people; the Dene, who were tundra specialists; and the Cree, who kept largely to the boreal forests. Founded more than three centuries ago as a fur-trading outpost of the Hudson's Bay Company, the town still boasts such national historic sites as Fort Prince of Wales, a partially restored stone bastion built by the English in the 1700s.
"Churchill is basically a frontier town, and a lot of the business people here are fairly rugged individuals who have carved out their niche with their bare hands," says Webber. "We're kind of a tenacious lot."
Equally tenacious are the tundra's various species of moss, lichen and miniature shrubs and flowers that burst into a dazzling array of reds, violets and yellows in July and August. But the most tenacious element here by far is winter itself, which conquers the brief summer by late August. The snow starts to fly again in September.
Along with the flora and fauna, or probably because of it, there is a startling profusion of tour operators in and around Churchill. For most of them, their busiest time is polar bear season in October; overseas groups often book their trips a year in advance. However, some tour operators contend that visitors who come to Churchill for the polars bears alone miss the loveliness of summer and may have to endure blistery weather that all but confines them to a tundra buggy. In summer, they say, you get the whales, the wildflowers, and all the tundra walks you want.
"If you're a wildlife enthusiast, you know about the polar bears of Churchill because of the National Geographic special," says Frontiers North's Lynda Gunter. "The beluga whales have not yet gotten that kind of coverage. A lot of people just don't know about them, and that's why they don't sell as quickly."
Inaccessible by road, Churchill is an hour and a half by jet from Winnipeg, and about 36 hours — two days and one full night — away by train. Via Rail's train service is invariably popular, and many tourists wish to experience the overland trek to Churchill in at least one direction. "Many people feel that travelling by train is one of the last great frontier things to do, because it is a fact that the train service is diminishing," says Lynda Gunter.
According to its mayor, Churchill advertises itself as the farthest south accessible arctic tundra in the world. "For many people, Churchill's very inaccessibility makes it a romantic and desirable destination," says Doug Webber.
Tours to Churchill, including airfare from Winnipeg, start at about $1,800: that's all it takes to make the inaccessible accessible. ♦
© 2004