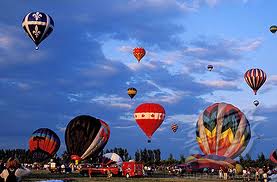 Twice a day for nine days each August, 100 propane-fueled hot air balloons rise from 10 sites around the town of Saint-Jean-sur-Richelieu, Quebec, and drift lazily over the outlying vineyards, apple orchards and fields of maize.
At six in the morning and again at six in the evening, weather permitting, a single balloon-meister gives the signal to 10 launch controllers, who then give the go-ahead to 100 pilots to soar heavenward. If spectators are often thrilled by the sight of so many colourful balloons — some shaped like witches, cat's-heads and other objects — floating surreally in the sky, airborne passengers are often elated. Paying $125 for 45 minutes to an hour in the air, they typically describe the flight as a blissful and transcendental interlude from worldly cares.
Since its inception in 1984, St-Jean's annual Festival de Montgolfières (hot-air balloon festival) has become one of the biggest and most well-known event of its kind in North America. Each year it attracts about 150,000 people, mostly from the largely rural Montérégie region of which Saint-Jean-sur-Richelieu is a focal point, and from Montreal about 35 km to the north. Pilots, given the red-carpet treatment and treated as stars, are drawn here from all over North America and Europe. This year's festival (2002) runs August 10 to 18.
Going up in a balloon "is a great way to visit a place, and see what the country really looks like," says Luc Béland, a balloon pilot who is a technical consultant to the festival.
Early morning is "the most magical time to fly because you don't have your whole day in your head," says festival director Paul Thoin. He paints a verbal picture of what a morning launch entails: "It's a little bit cool. You arrive on the site looking for a coffee. Your feet are a little bit wet from the dew on the grass. And then there may be morning fog and you're not sure if you're going to fly. The balloon-meister says 'Yes' and then 'No' and then 'Wait.' After 45 minutes, they inflate the balloon but you're still not sure. Then, in a few seconds, they say, 'Jump right in!' — and you're in the sky."
Teams of trackers follow each balloon by car: the more experienced can tell, after only three minutes of watching, where a balloon will end up. Conversations between passengers while aloft are often easily heard on the ground, hundreds of metres below. Locals have learned that they may bid a friendly — and perfectly audible — good morning to balloonists without having to shout.
Pilots have minimal control over the direction in which they sail; they may alter course slightly (say, from south to south-southwest) by slipping into and out of varying wind currents at different altitudes. They are so adept at controlling altitude, however, that an approved stunt involves lowering balloons until their wicker baskets barely touch the sedate Richelieu River, perhaps wetting passengers' feet. Some rigs glide so low over cornfields that the baskets hit the tops of stalks.
From the air, one sees a few towns surrounded by a gentle rural landscape that is broken by several dramatic massifs. Montérégie means "the King's mountains," and refers to a series of five massive outcroppings that burst through the otherwise level terrain. A sixth rocky outcrop, lying just beyond the region to the north, is the famous Mount Royal, the mountain in the heart of Montreal.
One of the Monteregian hills, Mount Saint-Hilaire features a nature reserve, hiking trails, and sweeping views of the region that extend to the Olympic Tower in Montreal. Several of the hills support sugar shacks where maple syrup is enjoyed in spring, and apple orchards where apple juice is put into barrels each season and fermented into flat or sparkling varieties of cider. Michel Jodoin, whose grandfather bought 100 apple trees near Rougemont in 1902, turned from selling apples to making cider in 1989, and now produces some 100,000 bottles annually, using methods adapted from the champagne regions of France.
Half of Quebec's 17 wine producers are in the Montérégie; the others are in the Eastern Townships. Victor Dietrich-Jooss, who grows grapes on 70 hectares near Iberville, produces about 17,000 bottles of wine annually, which provincial law stipulates must be sold on the premises. Wine and apple-cider tours of the region are popular: the Dietrich-Jooss vineyard alone receives about 11,000 visitors each year.
According to Mr. Dietrich-Jooss, the Montgolfières festival is good for the region because it brings many people. "The balloons come from St-Jean and cross our vineyards," he says, standing in a field of grapes, pointing. "Two years ago, one stopped in the vineyard, on a spot where there were no vines growing. Everyone in the area came to see the balloon. The driver of the car following the balloon wasn't watching where he was going, and had an accident in front of the vineyard."
Only by visiting Fort Chambly, a national historic park featuring a reconstructed French fortress, does one attain a sense of the area's rich history, and the immense strategic importance it once possessed for the warring French, British and Iroquois nations. Once lying on the front line between New England and New France, the fort was active throughout the War of 1812, the Patriot's Rebellion of 1837-8, and the Fenian raids of the 1860s.
The town of Saint-Jean-sur-Richelieu does not reflect this rich history. One of its most historic sites is the childhood home of hockey legend Boom Boom Geoffrion. It is an industry-based town of 38,000 inhabitants, many of whom commute regularly to Montreal via the congested Champlain Bridge. Some locals say the town has been ruined by the addition of a large shopping mall in the late 1980s, now anchored by Wal-Mart, that has drawn people away from the old downtown.
Naturally, town officials are delighted by the success of the Montgolfieres festival, and hope the town's prospects will rise like the colourful balloons that fill the skies each August. ♦
© 2002