In 1949, a group of teenage boys from working class families living in the College Street corridor joined together to form Club Orion.
They met at one of the YMHA buildings at 12 Major Street, just north of College Street.
With very little money to spend on recreation, the boys arranged sports activities and social events that, over the years, melded them together into a family-like group.
They have continued to meet and share special events for the past 60 years.
In an 89-page album, using their own words and numerous photos, they have now recorded the history of their members and events that reflect a fun-loving and supportive group of men.
Now in their 70s, they continue to come together to share stories from the past and bring each other up to date on current events in their lives.
In the early years, the late 1940s and '50s, they formed baseball and basketball teams that won numerous awards.
Mike Flicht, one of the founding members, said in an interview that during Toronto's oppressive heat, when financially comfortable families could afford to go to their cottages and resorts, "the Club Orion boys went to the boardwalk and Sunnyside Beach. Some of us would pile into a half-ton truck and take off to places such as Pontypool, Pickering or Belle Ewart."
In those days, he recalled, the club played in community playgrounds, at 44 St. George Street and later at the new YMHA when it opened on Bloor at Spadina.
"We were the first club at the new Y," he said. "We held meetings and social events there. And to get away from the heat of the summer, many of our members went to work at Camp Northland."
Many years ago, they became known as the College Street Cowboys, after an article about Club Orion written by David Lewis Stein appeared in a daily newspaper.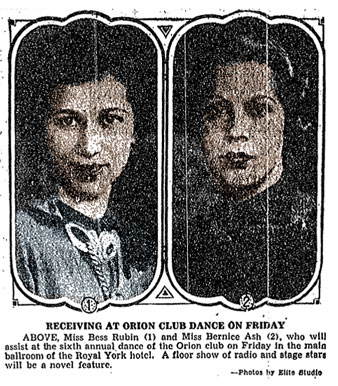 The large and professionally completed Club Orion album records many events — socials, weddings, trips — and an account of their history. Throughout the years, most of the original members remained close friends. In the album, they speak of their years together as "the best of times," and include their school photos, sports teams, reunions, invitations for socials, street scenes and references to Lansdowne and King Edward public schools, which many of the boys attended.
They went on to different high schools and universities and became successful in their professions and businesses.
Despite their diversity and the different directions their lives took, they have remained a close and cohesive group of friends. As they celebrate their 60th anniversary, they look forward to continued friendships and the opportunity to retell their stories of the best of times.
The founding members of Club Orion in 1949 included Al Veffer, Mike Flicht, Al Sokol, Simon Weinberg, Irwin Gould, Phil Bregman, Shelly Sokoloff, Paul Stoneman, Gary Wasserman, Norm Rosenberg, Harold Bronstine, Owen Shime, Stan Cole, Seymour Greenbaum, Bernie Bedder and Phil (Pinky) Shulman. ♦
This article first appeared in the Canadian Jewish News and appears here courtesy of the author. © 2009 by Cynthia Gasner.