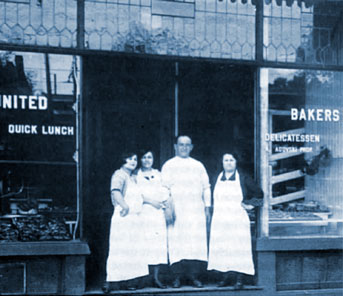 Herman Ladovsky, restaurateur par excellence, whose hallmark smile and friendly greetings to patrons at United Bakers, many of whom became friends and part of his extended family, died January 6 (2002). He was 89.
Now in its third generation, United Bakers Dairy Restaurant has been an important landmark in the history and growth of the Jewish community in Toronto. Ladovsky's heimishe hospitality, friendly shmoozing with customers and zest for life have left an indelible imprint on the family restaurant.
Ladovsky and his twin brother Sam were born September 23, 1912, the year their parents Aaron and Sara Ladovsky, immigrants from Kielce, Poland, and opened their first bakery and cafe at Agnes and Teraulay Streets, now Dundas and Bay Streets.
They moved to 338 Spadina Avenue, just north of Dundas, once the centre of Jewish life in Toronto, and from 1920 on, the dairy restaurant provided a social, business, cultural and political forum for people from all walks of life, and a meeting place for people from all parts of the globe.
Ladovsky grew up working in the business and lived with his family above the store. After a stint overseas during World War II, he returned to the business. He became the owner-operator when his father retired in 1955. In the Ladovsky tradition, his children, Philip and Ruthie, were beside him growing into the business.
When the Spadina restaurant closed in 1986 and relocated to Lawrence Plaza, Ladovsky turned the operational tasks over to them.
But almost every day, Ladovsky, who became the ambassador of goodwill, could be seen at United Bakers, stopping to chat and spread his warmth and friendship.
In his eulogy to his father, Philip Ladovsky said, "He lived his life filled with love and compassion, which he gave naturally and abundantly to all of us, and he died in the arms of his family, giving him back just what he had always given to us."
Ladovsky is survived by his wife and best friend Dora; children Simmy, Ruthie and Moe, Philip and Caryn; and grandchildren Rhonda and Rob, Brian, Nathan, Jacob and Adam. ♦
This article first appeared in the Canadian Jewish News and appears here courtesy of the author. © 2002 by Cynthia Gasner.
Above, United Bakers on Spadina Avenue.
Below, Herman's father, Aaron Ladovsky, was one of the founders of the Bakers Union in 1912, and that year opened his first restaurant on Agnes (Dundas) Street near Terauley (Bay) Street.