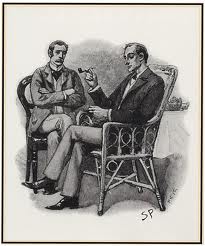 It's "elementary" that Toronto lawyer, author and "bootmaker" Clifford Goldfarb would be centrally involved in organizing the Conan Doyle conference slated for Toronto later this month (October 2006).
A fan of Conan Doyle since his youth, Goldfarb is vice-chair of the Friends of the Arthur Conan Doyle Collection at the Toronto Reference Library and former president of the Bootmakers of Toronto, a national Sherlock Holmes society. His book The Great Shadow, a study of Conan Doyle's stories set in the Napoleonic era, was published 10 years ago.
The library's Arthur Conan Doyle Room has the ambience of a cosy Victorian parlour and holds the world's only library collection devoted to the famed British writer, who lived from 1859 to 1930. Since the collection is now 35 years old, the conference will focus on Conan Doyle at 35, when he was at the height of his creative powers.
While the literary detective Sherlock Holmes remains by far the most popular and famous of the Edinburgh-born writer's creations, he also penned science fiction, poetry, histories and historical fiction, including numerous stories relating to the Napoleonic Wars.
"Conan Doyle had a real fascination with the character of Napoleon and the battle of Waterloo," Goldfarb said during a recent interview in the ACD Room. "He once said of Napoleon, 'He was either the greatest hero or the greatest scoundrel who ever lived. Of the adjective alone can I be sure.'"
Conan Doyle's historical fiction includes The White Company, a tale of the Crusades — "I think it was the best-selling historical novel of all time, after Ivanhoe by Walter Scott," Goldfarb said. He also penned a multi-volumed history of the First Great War, later known as World War One.
An avid spiritualist, Conan Doyle participated in a seance conducted by Louis Benjamin, a local medium, during his second visit to Toronto in 1922. The visiting celebrity was especially intrigued because Benjamin was Jewish, said Goldfarb, who has co-written several papers on Jewish characters and references in the Sherlock Holmes stories.
Some years ago Goldfarb and other enthusiasts, in conjunction with Friends of Yiddish, presented a stage version of scenes from The Adventure of the Empty House, one of numerous Sherlock Holmes stories that was translated into Yiddish in the early 20th century. The result, he said, was "hilarious."
"We've been looking for many years to find more stories in Yiddish translation. They don't seem to have survived."
Goldfarb, who was born in a house on Bathurst Street in 1945 and grew up above the family tailor shop on Avenue Road, expressed pleasure that Toronto should be home to the world's largest publicly accessible collection devoted to Conan Doyle. The library is planning a major exhibition of manuscript and other treasures to coincide with the conference.
Planned proceedings include a gala banquet, a program of speakers and a panel discussion in which Goldfarb is participating. "The debate is to be whether Conan Doyle can be considered a great author and whether his works can be considered great literature," he said. Free public activities include an historic walk of Victorian Toronto and a screening of the 1979 film Murder by Decree.
The conference is slated for October 19 to 22, and enthusiasts have already registered from Japan, Denmark, England, United States and other countries, Goldfarb said. ♦
© 2006