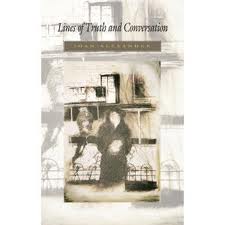 Producing an acclaimed first collection of short stories was a "snap" for Joan Oliver, a Toronto writer whose book Lines of Truth and Conversation merited inclusion in the Globe and Mail's list of the 100 best books of 2005.
"Snap" is the title of perhaps the collection's most charming tale, about an eight-year-old girl's search for emotional stability and a sympathetic friend after her father's remarriage in Chicago in 1962. (The girl's mother had dropped out of the picture because she "drank too much, forged cheques and ran around with men.")
"Snap" is the sound the girl's little patent-leather purse makes as she opens it to rearrange her things — "a tissue, a comb and a bow for my hair" — during the marriage ceremony in a rabbi's study. When she is done laying each item in turn on her lap, she replaces them in her purse and closes it with another annoying "snap."
"When the ceremony was over, and everyone had told me how bothersome the snapping sound had been and what a nuisance I was, my brother and I were taken home to Jill's apartment," the narrator relates in the first paragraph. What follows is a gem of a tale describing the girl's emotional roller coaster ride as she adjusts to a difficult stepmother and her family's new life in Jill's apartment on Chicago's south side.
Ultimately, her father's second marriage proves a flop, as do the various friendships the narrator attempts to forge with her step-sister, neighbours, a black maid and others. But through her tribulations, she realizes a deeper purpose: the need to be a writer. Imbedded into the story is a mirror through which the narrator reflects on her childhood and the formation of her own identity. Whether intentional or not, the story has all the hallmarks of a literary self-portrait of the artist at a young age.
Canadian writer Mavis Gallant also found much to admire in Snap, and nominated it for inclusion in "Best New American Voices" when it first appeared in the journal The New Quarterly.
Alexander sent the story to John Metcalf, the celebrated editor at Porcupine's Quill Press, three years ago. "He read Snap in July 2003 and he said, 'Send me your work,'" she recalled. She began sending him other stories she'd been writing since the late '90s — 10 in all, including the long piece Five Months, which, at 60 published pages, qualifies as a novella. The plan at first was to publish the novella separately, but ultimately all the pieces were presented in a single collection.
Five Months chronicles the last months in the life of a family patriarch and the family's various insensitivities and squabbles over material possessions that arise before and after his death. While some characters come across as compassionate and caring, and others as calculating and cold, Alexander said she attempted to present everybody in a sympathetic light.
"Everybody cared about the old man in their own way," she said. "I wasn't trying to create a dark figure." Then she declared with a smile: "That's the kind of writer I am — everybody gets equal opportunity."
Her sly, wry sense of humour is just as evident in conversation as it is in her prose. Her stories, which often seem to explore the dark side of human relationships, have been called "funny-sad." She seems pleased that I get the comic edge to her writing because, she says, not all readers do. She said she thought of herself as "funny-sad" but lamented that no one else in her family did. But then again, she herself sometimes doesn't seem to realize when she's being funny, as when she told this interviewer, apparently in all seriousness, "It's kind of you to write down what I'm saying!"
Alexander was born in Chicago in 1954, graduated in English from the University of Illinois, and in 1979 married a Canadian, with whom she has two sons aged 22 and 20; she and her family live in the Eglinton-Bathurst neighbourhood of Toronto. "I just got my citizenship this year, and I'm happy and proud about that," she said. For many years she volunteered with the annual Jewish Book Fair and taught part-time at the Jewish community school at Bloor and Spadina. She began to concentrate on producing fiction about 1998.
When she's writing a story she has no idea of where it will go and only hopes that a structure will eventually emerge. "Like Jackson Pollack, I'm just getting down the drips," she said, likening the writing process to what an abstract expressionist painter like Pollack does to capture the spontaneous act of creation on canvas.
However her own particular talent may be judged, talent is only part of the equation for most writers, she said. "You get the gift and as everybody says, the rest is perspiration. That's true with everything: sports, being a gardener, literally with everything. It's just the work. People ask, do I believe that writing can be taught? Not really. But I believe you can work with what you have and make it better."
The morning the Globe included her in the top 100, Alexander couldn't bring herself to read the paper, but she kept busy fielding telephone calls from all over. "It was a good day," she said. "I never had a morning like that. It was out of the ordinary for me. It was nice."
A mature stylist, Alexander has presented us with a charming collection of stories and the hope of an equally promising work to follow. She is currently putting the finishing touches on a debut novel about a Jewish family in Toronto about 2003, just as the war in Iraq was building up. "The novel is almost there," she said, "but I've been saying it's almost there for about six months now."
At 192 pages, Lines of Truth and Conversation is available in bookstores for $18.95. ♦
© 2006