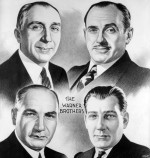 You Must Remember This: The Warner Bros. Story (Running Press) is an engaging, fully illustrated coffee-table book recounting the many cinematic milestones and many more B-films churned out by the Warner Brothers Studio, one of the major filmmaking factories of Hollywood's golden era.
One of the most significant films to emerge from the hallowed Warner Brothers Studio was its "supreme triumph" of 1927 — The Jazz Singer, starring an already legendary Al Jolson, who at 42 should have been far too old for the part. Sappily sentimental, The Jazz Singer is primarily remembered today because it was the first talking motion picture or "talkie."
According to co-authors Richard Schickel and George Perry, elements of The Jazz Singer would foretell what the studio would become in its heyday as a Hollywood colossus over the next three decades.
The film's use of an urban, lower-class setting, and its depiction of the struggle between immigrant parents and a son striving to be a fully realized American — a jazz singer instead of a cantor like his father — would be reflected in scores of realistic, socially-relevant Warner Brothers pictures in the Thirties, Forties and Fifties. In that era the studio mass-produced many "tough, violent, wisecracking, and above all socially conscientious movies that were unlike those of any of its competitors," Schickel and Perry write.
Only 70 movie theatres across America were wired for sound when The Jazz Singer made its debut in New York — which none of the four Warner brothers attended: they were obliged to return to California for the funeral of brother Sam, tragically felled by a stroke.
A little-known postscript is that the Warners made a 1928 sequel called The Singing Fool. Starring "Jolie" as a singing waiter on his way to stardom, it became the biggest money-maker in Hollywood history until Gone With The Wind in 1939. Critics, however, regarded it as one of the worst major studio films of all time.
You Must Remember This presents a capsule history of the famous brothers — one of whom, Jack Warner, was born in London, Ontario, in 1892; the Polish-Jewish family moved to Youngstown, Ohio, two years later. Their father tried a variety of occupations including fur trader (in Canada), cobbler, butcher and grocer. In 1903 the family bought a projector for $150 and began showing films to the public; they opened a nickelodeon in 1907.
Just over decade later the brothers bought the rights to My Four Years in Germany, a bestselling WWI memoir that they translated it into a money-making docudrama. They purchased their first Hollywood production center in 1919 and were saved from bankruptcy in the 1920s through the immense popularity of the cinematic canine Rin-Tin-Tin.
The book's main purpose, however, is to highlight the studio's many outstanding films down the years, highlighting such stars as George Arliss, James Cagney, Bette Davis, Gary Cooper, Barbara Stanwyck, Joan Blondell, Errol Flynn, Henry Fonda, Humphrey Bogart, Edward G. Robinson, Paul Muni, Leslie Howard, Ingrid Bergman, Cary Grant, James Dean, Judy Garland and Joan Crawford — to name only a few. The roster of directors includes Michael Curtiz, Busby Berkeley, Walter Huston, Frank Capra and Alfred Hitchcock.
Page by page, the book marches relentlessly from a glorious past to an equally glorious but sometimes-dubious present. Warner Brothers classic films — again, naming only a few — include Little Caesar, White Heat, Casablanca, The Maltese Falcon, Treasure of the Sierra Madre, Mildred Pierce, Life With Father, Rope, A Streetcar Named Desire, Rio Bravo, Who's Afraid of Virginia Woolf, Bonnie and Clyde, The Wild Bunch, Woodstock, Clockwork Orange, The Exorcist, Harry Potter, The Color Purple, Batman and Sweeney Todd. The tradition of excellence continued even after the demise of the studio system in the Sixties.
For the most popular films, the book offers full-colour movie posters and behind-the-scenes set photographs, while many more B-level entries receive honourable mention in the lively and intelligent text. Schickel and Perry compiled the book as an adjunct to a PBS television series, but it stands up well on its own as a worthy celebration of some of the greatest films of all time.
* * *
I've been on a movie kick the last few months, seeking out and watching hard-to-find cinematic classics from decades past. In particular, I've been drawn to the 1930s, the decade in which the cinema reached its maturity with such gems as It Happened One Night, Dinner At Eight, Counsellor-At-Law, The Wedding Night, Nothing Sacred, His Girl Friday, My Man Godfrey, They Made Me A Criminal and The Champ.
Discerning film lovers may feel the need for a good reference guide to help in tracking down worthy titles. Updated annually, Leonard Maltin's Movie Guide offers a succinct TV-Guide-style summation of cast and plot; with more than 16,000 films listed, it makes up in quantity what it may sometimes lack in quality. As a reflection of its worth, this guide is available for customer reference in many independent video-rental stores.
Maltin's entry for The Jazz Singer, for example, is typically brief but loaded with details. It informs us that cast members included William Demarest and Myrna Loy as an uncredited chorus girl, and that the 1953 remake by Michael Curtiz is as schmaltzy and sentimental as the original. (The 1980 remake, starring Neil Diamond, carries the dreaded "BOMB" rating in place of the usual one-to-four stars.)
Movie buffs who need more information will appreciate 1001 Movies You Must See Before You Die (Barrons), a 960-page, full-colour compendium edited by Steven Jay Schneider. It's a pleasure to leaf through this thick and lavishly illustrated volume, which lists titles chronologically, usually one or two per page, with sidebars detailing cast, director and other talent along with information on Oscar nominations and wins.
As expected, major works by Alfred Hitchcock, Preston Sturges, Vittorio De Sica, Quentin Tarantino, the Coen brothers and other celebrated directors receive the prominent treatment they deserve. Refreshingly un-Hollywood-centric, the book is strong on foreign titles such as The Bicycle Thief (Italy, 1948), The Shop On Main Street (Czech, 1965), Kippur (Israel, 2000) and Gwoemul (Korea, 2006). The recent 5th Anniversary Edition also provides convenient indexes of directors and genres, as well as a checklist by which one may keep track of films watched.
Although one might quibble at the inclusion of some questionable entries (I would have omitted Natural Born Killers, The Usual Suspects, Kill Bill and The Passion of the Christ, among others), 1001 Movies You Must See Before You Die not only offers a credible one-volume guide to world cinema but also an unassailable argument for renewing your membership at the local independent video rental shop. ♦
© 2009