As he prepares to bring his recent smash Broadway revue to Toronto, stage and screen veteran Red Buttons, who is 76 and lives in Los Angeles, joked that he was contemplating taking French lessons just in case the Yes side won the Quebec referendum.
"I might even bring my wife along, and introduce her as a 'tres biyenta.' That's a French yenta, a tres biyenta."
Reached by telephone at his home, the former vaudevillian and burlesque trouper described the show that many New York critics and audiences found highly entertaining during its recent six-week run. "It's a history of show business from my 60 years of show business. I'll be talking about the old days. It's autobiographical and anecdotal, and I'll be talking about all the great stars I met and worked with — Al Jolson, Sophie Tucker, Jack Benny, Bert Lahr, Jimmy Durante, Gene Kelly, Bing Crosby …
"If I have to say so myself — and I'm saying so myself — it's really a fabulous couple of hours in the theatre. For people who like to laugh, it's the place to be on Nov. 20."
By and large, New York critics and audiences agreed. Commending his medley of Borscht Belt and burlesque shtick, New York Times reviewer Ben Brantley wrote: "For fans over 60, watching him must seem like reclaiming a long-lost cousin, all too happy to share memories of Sophie Tucker, Al Jolson and the days when good Jewish boys venerated their Yiddishe mamas without apologetic irony."
Known for his red hair and impish looks, the comedian is often placed in a comedic firmament that includes Sid Caesar, Milton Berle and Red Skelton, for whom he admits he is sometimes mistaken. He has performed in 31 films and countless night clubs, and has appeared often on television in such shows as Friars Roasts, Knots Landing and Roseanne.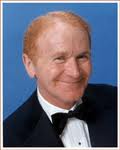 Mr. Buttons tells many tales and drops many names, and knows how to mine the rich nostalgia of a long show business career. He was born Aaron Chwatt in the "one square mile that produced the likes of Fannie Brice, Eddie Cantor, George Burns and Irving Berlin." His Broadway show was at the Ambassador Theatre — the same theatre where, 53 years earlier, he was on stage the night of the infamous raid on Minsky's burlesque show.
His heart "still stands still" when he recalls the night in 1958 when he won an Oscar for best supporting actor in the film Sayonara. "When Lana Turner opened the envelope and practical screamed out 'Red Buttons wins the Oscar!', I came rushing down that aisle — not to get the Oscar, just to kiss Lana Turner!"
Mr. Buttons, who even has memories of the old Casino Theatre on Queen Street in Toronto ("Of course you don't remember it! What are you, 12 years old?") was persuaded to bring his Broadway show north by a long-time acquaintance, Ed. Mirvish, owner of the Royal Alexandra Theatre.
Red Buttons plays at the Royal Alex for one performance only on Mon. Nov. 20, 8 p.m. For tickets, call 416-872-1212 or toll-free 800-461-3333, or visit the Royal Alex box office, 260 King St. W., Toronto. ♦
© 1995