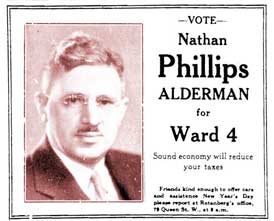 Torontonian Norman Cowan reminisced about hanging out on College Street around Becker's, Altman's, Wellt's and the Eppes Essen Restaurant during the Depression years in an article by Frank Rasky that appeared in the Canadian Jewish News on November 4, 1982.
Then a 73-year-old retired estate planner, Cowan delivered an address titled Reminiscences of Ward 4 Toronto Fifty Years Ago, 1930-35, to both the Toronto Jewish Historical Society and the Holy Blossom Temple Alumni.
He recalled summer baseball games played in Bellwoods Park,  New Year's Eves ending at Child's Restaurant at Yonge and Dundas, and "dances where you claimed girls according to the names listed in your program and the sweet music always ending as the last note faded from the song Good Night Irene."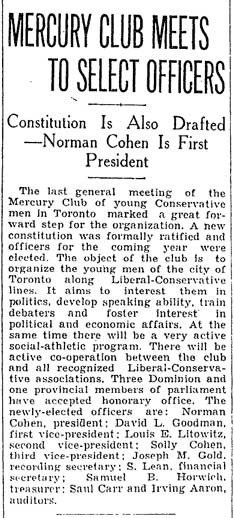 Cowan was founding president of the Mercury Club of Young Jewish Conservative Men, formed with about two dozen young men about 1930. One of nine children of a Polish immigrant garment worker for Tip Top Tailors, he worked as a clerk in the law office of Samuel & Abraham Cohen in the Federal Building at 85 Richmond Street West, making $5 a week.
His family lived in a two-story red-brick home at 25 Henry Street, beside the Orthodox Beth David Synagogue.
Cowan's father, a dedicated union member and a devout Jew, would refuse to work at his tailoring job on Saturday. He would read aloud the "Bintele Brief" column from the Yiddish Forwerts, and the family would discuss and debate the merits of each letter.
The neighbourhood was filled with poor and middle-class Jews from Poland, including many who worked as peddlers, opened junk shops or went into the garment trade, Cowan said. Members of the Mercury Club, which was headquartered on McCaul Street, were first-generation sons like himself.
Herman Nathan Sivitz ran a steamship agency on McCaul and lived with his family above the shop. Sivitz often helped peddlers who ran afoul of the law and his office was a hive of activity around election time, Cowan said.
He named the red-bearded Itshe Meyer Korolnek — organizer of the Orthodox Eitz Chaim Talmud Torah on D'Arcy Street — as a key political organizer for the Conservatives; also court interpreter Alex Markovitch, Alex and Joe Eisenberg, and Charlie Garfinkle. Conservative candidates included Nathan Phillips as alderman and Fred Singer as member of parliament.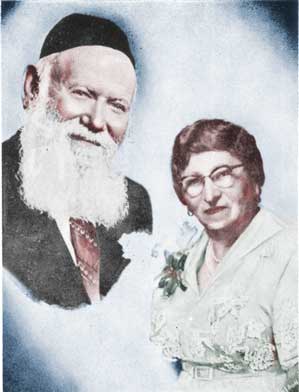 The Liberal opposition opened an unofficial headquarters at Rubin's Restaurant on Spadina near College, Cowan said. The United Bakers Dairy Restaurant, at 338 Spadina Avenue near Dundas, was "neutral territory."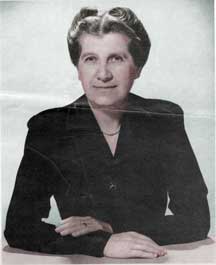 Liberals who vied for office included Joe Singer, Sam Factor, Joe Gordon, and Ida Siegel, who successfully ran for a seat on the city's board of education.
"That was a difficult period of time everywhere," he was quoted as saying. "Brother Can You Spare A Dime? was more than a popular song. Contrary to our hopes, we saw that the Bennett Conservative federal victory of 1930 ushered in even worse times. Far from loosening immigration laws, Bennett tightened them — especially for Jews."
The Depression was a difficult time, Cowan said, but even when life seemed filled with dark despair, "we had faith and we knew that 'This too will pass' — and it did. ♦
© 2012