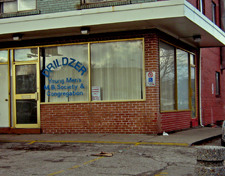 Some 120 people recently celebrated the Drildzer Congregation and Society's 70th anniversary, including a number who were among the group's early founders.
The second, third and fourth generations were also represented at the banquet, held at the Pride of Israel Synagogue, with Rochelle Sufrin, daughter of Jack Stopper, as the evening's chair.
After meeting informally for three decades, the Drildzer was formed in 1934 by eight founders, whose children and grandchildren have remained active in the society. The congregation began in a shul on Huron Street, then moved twice before settling into its current location on Wilson Avenue.
Honoured at the banquet were second-generation Drildzer members Jack Bliman, Sam Bongard, Hy Goldstein, Max Hain, Jack Silverman, Jack Stopper and Sol Zigler.
On display were banners, photos, original ledgers and other memorabilia, some dating back to 1934.
Drildzer president Mae Waese reported that an archival video of the society's senior members, who are now in their late 80s and 90s, is being completed by the video committee co-chaired by Sam Hoffer and Harvey Golombek. Rough cuts of the video were presented at the banquet.
"In the video, the members tell the story of what brought them to Toronto from Drildz, how they started the society and why it became a significant part of their lives," Waese said. "The video is a treasure.
Waese, daughter of the late Joe Rutman, one of the early founding members, announced that to commemorate the 70th anniversary, the members have formed the Ilza Historical Cemetery Restoration Project to restore the Jewish cemetery in Drildz, in south-central Poland, 75 miles south of Warsaw.
The Jewish cemetery of Drildz, established in 1837, was almost totally destroyed during World War Two. In 1942 the Germans forced the Jews to transport the matzevot (stones) to swampy areas for road building near Radom. The few shards remaining are now part of a forest on the outskirts of the town.
Brenda and Barney Dales, who have visited Drildz, are the co-chairs of the restoration project, for which the committee has established the groundwork in North America and Poland.
"This will allow us to turn our cemetery into a place that will honour the memory of our ancestors buried there and those Jews who were buried in at least one mass grave during the Shoah," says Brenda Dales.
"The cemetery restoration will be under the supervision of the chief rabbi of Warsaw and Lodz and donations to the restoration are tax deductible in Canada and in the United States." ♦
This article appeared originally in the Canadian Jewish News and appears here courtesy of the author. © 2004 by Cynthia Gasner.