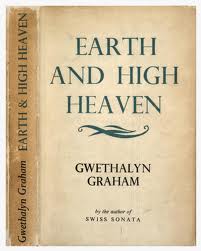 Gwethalyn Graham's novel Earth and High Heaven (1944) is said to bear the distinction of being the first book published in Canada by a non-Jewish author that deals centrally with Jewish themes and characters.
Since the former bestseller has been out of print for two decades, its recent reissue by Cormorant Books of Toronto seems an opportune moment to recount the intriguing history of the book and its author, who was just 31 when it came out.
Set in the Montreal of 1942, Earth and High Heaven focuses on the intense, star-crossed romance between the humble but enterprising Marc Reiser and Erica Drake, whose wealthy father refuses to meet or consider him because he is a Jew. One reviewer summed it up as a Romeo and Juliet set in Westmount with part of The Merchant of Venice thrown in for good measure.
Published simultaneously in the United States and England, then in Canada, it was a runaway bestseller and remained on the New York Times bestseller list for more than a year. It sold more than a million copies in English alone and was eventually translated into 18 languages as well as braille. A special print-run of 350,000 was shipped to members of the American armed forces in Europe.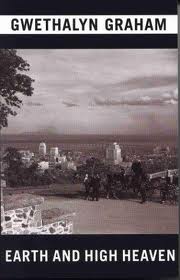 It proved more lucrative to Graham than any agent could have imagined. Collier's Magazine paid $7,500 to run an abridged version of it, the Literary Guild of America paid $42,000 to make it a club selection, Samuel Goldwyn paid $100,000 for movie rights, and so on. Graham spent years to successfully convince the tax department to allow authors to prorate such windfalls over a three-year period to allow them to avoid falling into the highest tax brackets.
At a time when Western democracies were being shocked into recognizing the unspeakable evil deeds of the Nazis, Earth and High Heaven's message of social tolerance for minorities struck a massively popular chord.
Graham had hit upon the theme even before American author Laura Z. Hobson, whose 1946 novel Gentleman's Agreement presented a parallel depiction of the genteel, pervasive antisemitism that operated across all levels of American society, quietly keeping Jews out of jobs, professions, hotels and country-clubs.
Graham's book even preceded the Canadian Jewish Congress's groundbreaking campaign for equal civil rights for all Canadians that began in the late '40s, after the horrors of the Holocaust had fully filtered into public awareness, and persisted through the '50s and '60s.
Earth and High Heaven earned its author a second Governor General's award; her previous novel, Swiss Sonata, had garnered the same award in 1938, when she was only 25. The book also won a prize from the Saturday Review of Literature as the best work on race relations.
What prompted a nice Anglican girl from Toronto's posh Rosedale suburb, a graduate of the private Havergal School for Girls, into becoming an internationally-admired champion of social justice and minority rights, especially for Jews?
Born as Gwethalyn Brown in 1913, Graham often credited her Scottish-born grandfather, James Frederick McCurdy, as a major influence. McCurdy, who lived with her family, headed the department of oriental languages at the University of Toronto and was a renowned scholar of Hebrew and Sanskrit. "I remember that he would not tolerate the use of any of the defamatory slang words which label national or religious groups on this continent — such words as wop, mick, hun or chink," she once recalled.
Her father was a prominent barrister with a reputation for sticking up for the underdog; her mother an active socialite and campaigner for the art gallery and symphony. Her sister Isabel became a freelance journalist who specialized in causes of social justice; her famous 1966 book The Trial of Steven Truscott, written under her married name of Isabel Lebourdais, would shock Canadians with its credible assertion that an innocent 14-year-old had been falsely convicted of rape and was condemned to hang.
After returning from a Swiss finishing school, Graham returned home and shocked friends and family by eloping at 19, but the man proved unfaithful and their marriage was brief. After the publication of Swiss Sonata in 1938, she returned to Europe for six months, and encountered scores of Jewish and other refugees desperate to escape the insidious Nazi regime.
That autumn, back in Canada, she circulated petitions, gave speeches and wrote two articles for Saturday Night, pleading for a more compassionate national immigration policy; she even took some displaced persons from Europe into her home.
She also became emotionally involved with a Jewish-Canadian lawyer, and was stunned when her father refused to meet him. Thus, her own experiences formed the basis for the story and characters of Earth and High Heaven, which literary historian Greg Gatenby has described as a "thinly disguised account of the motives and effects of anti-Semitism amidst a family that regards itself as cultured and liberal."
Screenwriter Garson Kanin recorded in his memoirs that Samuel Goldwyn considered Graham's novel the most beautiful love story he'd ever read and fully intended turning it into a movie. Goldwyn hired a team of six screenwriters, photographed potential locations in Montreal, and mentally cast Katharine Hepburn and Gregory Peck as the romantic leads.
But the appearance of Gentleman's Agreement in 1946, and Twentieth Century-Fox's quickly-produced movie of Hobson's novel — starring Gregory Peck, no less — dashed Goldwyn's plans to bring Earth and High Heaven to the big screen.
Like author Martha Mitchell after Gone With the Wind, Gwethalyn Graham was sidelined by success: she produced no more novels and only one non-fiction work, Dear Enemies, which did not have widespread appeal. She died in 1965 at the age of 52.
Offering an introduction by Norman Ravvin, Cormorant's trade paperback edition of Earth and High Heaven is available in bookstores for $19.95. ♦
© 2004