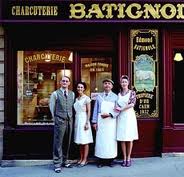 Monsieur Batignole (France 2002) is a simple, deeply satisfying feature film about one man's efforts, despite his otherwise unheroic life, to rescue three children from the Nazis.
Batignole, a middle-class butcher in wartime Paris, hardly seems to care when his upstairs neighbours, the Bernsteins, are deported for being Jewish; after all, it was his own daughter's fiancé who denounced them. His main goal seems to be to become chief purveyor of meats and other goods to the occupying Nazi forces. But when young Simon Bernstein shows up three days later at the Bernstein's former apartment, which the Batignoles have greedily taken over, the ordinary butcher unhesitatingly rearranges his allegiances and chooses to hide the boy at considerable risk to himself.
He swears it it just until morning, but as new complications arise, Batignole goes to increasingly greater lengths to protect the boy — as well as the two girls, Simon's cousins, who materialize one evening in his basement. And thus the stage is set for the unfolding of this largely realistic fable about the remarkable transformation of Citizen Batignole from bourgeois opportunist to righteous gentile.
Actually, Batignole's transformation is somewhat trickier than that. As he attempts to smuggle the children to freedom in neighbouring Switzerland, he starts to identify fully with the Jews whose tragic fate he had previously regarded as none of his business. Fate has now given him this rescue mission, and he commits himself to it despite the various setbacks, including Simon's sometimes annoying behaviour, that test his resolve along the way.
Some moviegoers may be torn over the appropriateness of a film set in Nazi-occupied Paris that purports to be a tender and warm-hearted dramatic comedy, and that glosses over the cruelty and inhumanity of the deportations and the death camps. Doesn't this violate our sombre and sacred duty to remember? But like Life Is Beautiful, Monsieur Batignole demonstrates that laughter and human warmth also have their place in the genre, and that Holocaust films need not always be grim and heroic.
For Gerard Jugnot, who wrote and directed as well as played the title role — brilliantly, in all instances — the film may be a way of indulging in some wishful thinking: the wish is that more citizens could have been like this ordinary man who behaves nobly when faced with a difficult moral choice. In the meantime, the film sidesteps many painful realities about Vichy France's complicity with the Germans — a forgiveable lapse, once you recognize Jugnot was attempting much more than a history lesson.
The young actor Jules Sitrok charms us as Simon: he reminded me of the young Alexander in the Bergman film Fanny and Alexander. Like that Bergman masterpiece, Monsieur Batignole seems to project a certain mystical aura around the Jews, as though they benefit, even in the darkest moments of their history, from some sort of miraculous intervention. What else is it, after all, that pulls the strings of fate and puts the unwary Simon and his cousins into the hands of so unlikely a protector as Monsieur Batignole?
Jugnot felt the need to temper the happy ending with a postscript that his fictional children were never reunited with their parents, who were presumably slaughtered on the Nazi's immense butcher's-block. It is the underlying bleakness and despair, rarely alluded to in this film but a defining element of the genre, that make the drama so real and the comic moments so poignant. ♦
© 2003