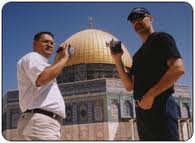 Israeli police officer Benny Herness and Palestinian journalist Adnan Joulani had planned to keep in touch after returning from a joint Israeli-Palestinian peace mission to Japan in 2000 that was the focus of the Israeli documentary film "Sleeping With the Enemy."
But the intifadah erupted a week after the film's debut and the two lost contact until Israeli film director Dov Gil-Har brought them together again to make a sequel documentary.
The result, "Behind Enemy Lines," made its world premiere this week as the opening of the Toronto Jewish Film Festival. The engrossing documentary is also scheduled for screening at numerous other film festivals and on Israel's Channel 2 later this year.
In "Behind Enemy Lines," the two principles take turns showing each other locations in an attempt to convince the other of his own truth. As the scene shifts from Yad Vashem to Hebron, Tel Aviv to Jenin, the Western Wall to the Temple Mount, the two engage in a dialogue marked as much by personal warmth as by political heat.
Perhaps the most riveting sequence occurs in the narrow streets of the Jenin refugee camp as Herness and Joulani, riding in an armoured vehicle, encounter roving bands of youths with rocks and iron bars in their hands.
They visit the widow of a suicide bomber and the sites of several terrorist attacks, including a Tel Aviv intersection where a cousin of Joulani's went on a shooting rampage and was shot by an Israeli policeman. They also stop by a roadside café where another cousin of Joulani's was killed in a driveby shooting, presumably by a passing Israeli motorist.
A die-hard liberal who hosts a popular TV morning news show in Israel, Gil-Har said he chose to focus on Herness and Joulani because both are moderates within their respective societies.
"If I had put a settler and an Islamic Jihad activist together in a car, the film would have been quite short," he said. "It would really be about who would shoot first. This would have made it a short rather than a feature."
Herness was in charge of a special patrol and operations unit in Judea and Samaria during filming and is now a deputy police commander in Ramallah. Joulani, a former assistant to the late PLO official Faisal Husseini, received permission from the Fatah organization to appear in the film.
Allowing his subjects full control over the itinerary, Gil-Har traveled behind them in a separate vehicle so as not to influence their conversation. Although their exchange deteriorates into a shouting match at times, he said he "couldn't have written it better."
After participating in the film, Herness said he is still optimistic about peace but realized it will take much longer to achieve than he had thought. For Gil-Har, the film gives him an opportunity to bring the voice of the "other" into Israeli living-rooms.
"Is it important to me that the Palestinians will broadcast this film, so they will hear our voice?" he asked. "Not really. I'm interested in the processes on my side of the map. My main concern is that the Israeli side will think more, will know more, will try to understand more."
Shlomo Schwartzberg, the festival's director of programming, noted that the film offers a good demonstration of Israel's democratic freedom of political expression. "There are no equivalents on the Palestinian side of this type of filmmaker willing to challenge their own status quo," he said.
"Behind Enemy Lines" is slated for screening at the San Francisco Jewish Film Festival in July and at festivals in Montreal, Vancouver, New York and across Europe in coming months. ♦
© 2005