Max Wolfe was born in the village of Widze, Kovno district, in March 1892 and came to Canada in 1905, the Canadian Jewish News reported in a story marking his 90th birthday in its issue of April 22, 1982.
Max's father, three brothers and two sisters left Russia first; as the baby of the family, Max stayed behind with his mother, Rocha Rivka. Shortly after his bar mitzvah, he and his mother endured a 28-day ocean crossing in steerage class. They arrived by train at Toronto's Union Station on July 5, 1905.
Max's father had rented a house for the family on Nelson Street. Even so, soon after his arrival Max was taken to Brown Hill, Ontario, to live with his married sister, Sarah, who operated a tiny general store there. Thirteen years old and not knowing a word of English, Max was enrolled in public school.
That winter Max tripped and broke his leg. A Jewish peddler from Toronto who was passing through took him back to Toronto in his sleigh. The trip took seven hours. A doctor set Max's leg bone using a wooden splint. The peddler who took him to the doctor was Abraham Savlov, who would marry Max's sister Rosie and become his brother-in-law.
At 14, Max became a plumber's apprentice with Bennet & Wright, working 12 hours daily for a wage of $3 a week. The job lasted more than a year. Finding himself jobless at 15, and with only $25 in savings to his name, he borrowed some money from his brother-in-law, Leon (Leiba) Shulman, who operated a small produce business.
Purchasing a horse and wagon, Max went to a produce market near the waterfront at Front and Yonge, and bought a supply of vegetables to sell. He peddled fruits and vegetables for several years.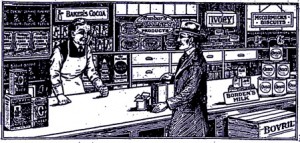 In 1909, at  age 17, Max went into partnership with his cousin, Osher Weinstein, a former cloak operator, and bought a building at 613 Queen Street East where they sold produce at wholesale. As the outside man, Max travelled on his bicycle to drum up orders for fruit and vegetables as well as hay and oats. On Sundays he helped collect debts for his brothers Harry and Maurice, who ran a small business.
After his business collapsed, Max tried another venture with his brother Maurice. The Wolfe brothers' partnership would last 62 years.
Their Ontario Produce Company expanded from grain, hay, oats and potatoes to include all sorts of general produce. The company became known as the Oshawa Wholesale Limited, acquired an IGA franchise and expanded into the retail grocery trade. In 1982 the company was known as The Oshawa Group Limited, and had grown to include department and drug stores as well as food wholesale and storage warehouses. In 1966 Max and Maurice were honoured at a testimonial dinner by the Toronto Wholesale Fruit Produce Merchants Association.
Max married Beatrice Albert in 1936. His Boston-born wife was an accomplished pianist who had taught music at the Hambourg Conservatory of Music. She was active in the Beth Tzedec Sisterhood and served on the board of the Baycrest Centre for Geriatric Care. Max and Bea Wolfe had one daughter, Phyllis, who was married to Ab Flatt; and a son, Harold, who was married to Carole.
Since 1920 Max was a member of the McCaul Street Synagogue (Beth Hamidrash Hagadol) and joined Beth Tzedec when McCaul amalgamated with the former Goel Tzedec, which had become Beth Tzedec in its new premises on Bathurst Street. Max Wolfe and Maurice funded Beth Tzedec's Beth Alpha mosaic floor, a replica of an ancient 6th century synagogue mosaic from Israel rendered by artist Perli Pelzig.
"Max is outgoing, warm and friendly," Jack Orenstein concluded in his CJN story. "He is an ardent Jew and Canadian — a man who enjoys the love of his family and the esteem of countless friends. Now, at the age of 90, he continues to radiate an air of assurance and dignity." ♦
Stores under the Oshawa Group included IGA, Pharma Plus, Food City, Price Chopper, Towers Department Store; the company was sold, via Empire Company Ltd., to Sobeys in 1998.