Real Estate Losses Led to Brown's Suicide
Queen St. Tailor Suffered Heavily in Slump
FEARED FOR HIS FUTURE 
Had Made Up His Mind to Die — Intimated He Would Leave Money to All Denominations, Though He Was a Russian Jew
From The Globe, March 8, 1915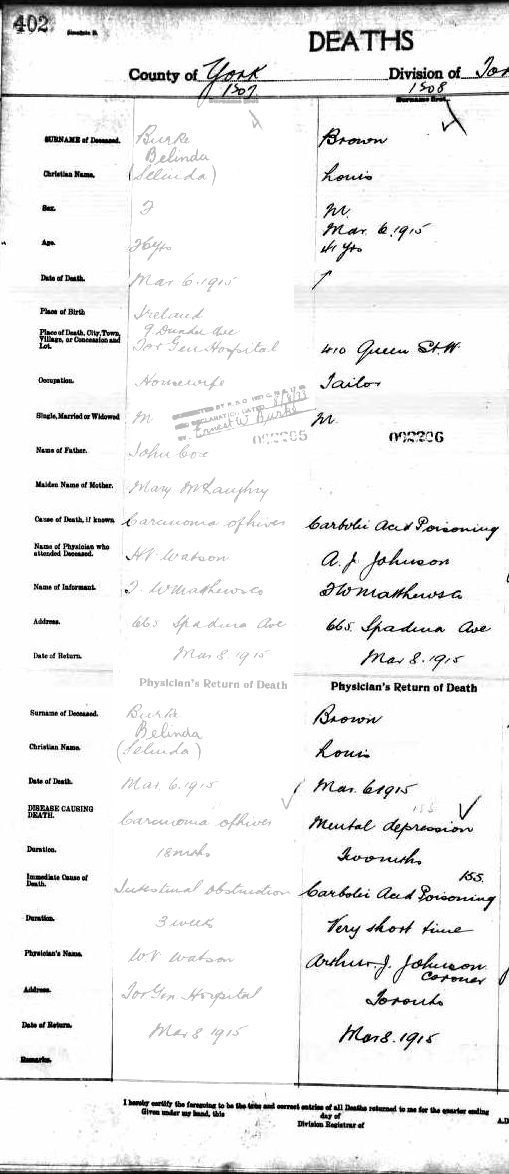 Although he was the holder of many mortgages and the owner of not a few houses, Louis Brown, a tailor and real estate dealer, feared according to the statement of a friend last night, that he would ultimately be unable to pay his debts, and he committed suicide on Saturday night.
Brown, who was a Russian Jew, came to Toronto twenty-five years ago and has carried on a tailoring business at 410 Queen street west. He also owned a tailor shop in Bloor street west.
His financial and speculative enterprises have been large of late, but since the slump in real estate his losses have been heavy. It is said that not long ago he dropped $20,000 on one parcel of Yonge street land alone. Only a few days ago he lost another couple of thousand.
"He had made up his mind to die and often spoke about it," said a friend. "On Saturday night after closing up his office in Queen street he took carbolic acid. When he did not return to his home, 595 Huron street, at the usual time, friends went to his office and found his body. The Chief Coroner was notified, but on hearing the circumstances released the body.
Brown was married and is survived by his wife and a daughter. He was a member of the University avenue Synagogue, but was broad in his sympathies. He had intimated to his friends that in his will he would leave money to the charities of all denominations. ♦
* * * 
Estate of Louis Brown Valued at $24,930
He Left a Strange Will
From the Toronto Daily Star, June 8, 1915
"I should be excused from committing crime, as I have been misled or led astray by a Jewish lawyer. This is the cause of my doings. Please bury me next to my children and give me a nice funeral."
Thus read clauses from the will of Louis Brown, a Hebrew tailor, who committed suicide at 595 Huron street March 6 last. The document, written in Yiddish on a large sheet of brown wrapping paper February 17, 1915, has been filed in the Surrogate Court by the widow, Dora Brown.
It was said that Brown's act was caused by worry over his financial affairs. His estate is shown to have a value of $24,930, of which $15,969 is invested in mortgages; cash in bank, $2,713; household goods, furniture, and stock-in-trade, $945; and $5,800 in the following real estate: Equity of $12,000 in Nos. 355 and 355-1/2 Queen street west, less encumbrances of $11,000. The testator's share in this property consisted of a half-interest in the balance. Equity of $6,800 in 997 Bloor street west, less $5,700, encumbrances $1,100; 306 College street, $9,000, less $5,800 in mortgages testators' interest in balance, $3,200; equity of $44,000 in Nos. 640, 642 and 644 Yonge street, against which are encumbrances amounting to $44,000; property at 595 Huron street, valued at $5,500, against which were mortgages for $5,000.
Will Under Mattress. 
"I did not know the deceased had made a will, and it was four days after his decease that I was able to find it," says Mrs. Brown. "One of the witnesses told me to look for a piece of wrapping paper. The will was found by me in the form it is now presented under a mattress in one of the bedrooms. The interpretation has been made by Rabbi Kaplan."
The will reads: "355 Queen street should belong to my wife and child, also the half of Bloor street store, College street property. My desire is from the estate should be give $10 a month to my parents. My brother Abraham must get $100 and Julius (brother) the same. My sister Jennie Pomerantz should get $1,000.
"I appoint as guardians my sister and brothers to take care of my child, that she should not go around with any young men unless my wife is satisfied.
Gift to Charity. 
"The Yonge street property should not be retained. My father-in-law is to be paid $500, providing anything can be sold. If any of the estate will be sold, $500 should be given to the Hebrew Free School, $500 to the Associated Hebrew Charities, and $200 for the congregation to which I belong. You must excuse me for my circumstances, for I could not stand any longer. I lost my sleep over a year. My money is in the Bank of Montreal — Queen and Yonge street branch — " Here the will abruptly ends. ♦