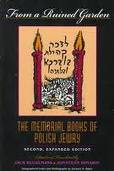 Where might you expect to hear a tale of an enchanted Passover seder where all participants fall asleep at the table before even the first glass of wine is consumed? Or of a blind cantor who, during a brief visit to town, sings so sweetly in synagogue that the whole community is mesmerized for weeks?
How about an old woman obsessed with sewing her own burial shroud and trying it on for a perfect fit? Or an account of a melee that erupts during a wedding party because young men and women dare to dance together?
One would think such colorful stories may have come out of a book of Jewish fairy tales and legends, or perhaps from a novel by Isaac Bashevis Singer or Chaim Grade. Instead, they may be found in From A Ruined Garden: The Memorial Books of Polish Jewry (translated and edited by Jack Kugelmass and Jonathan Boyarin), a wonderful compendium of excerpts from Polish memorial (yizkor) books which recently came out in a second printing (Indiana University Press, 1983).
Out of the ashes of the Holocaust has come a sombre genre of books, known as memorial books or yizkor-bikhur, that attempt to capture the essence of life as it was lived in hundreds of destroyed Jewish communities in Eastern Europe.
In the half-century since the Shoah, more than 600 titles have appeared, chronicling communities large and small, at least 450 of them in Poland. The others deal with an uneven sprinkling of towns in Belarus, Greece, Hungary, Latvia, Lithuania, Romania, Ukraine and the former Czechoslovakia and Yugoslavia. While Lodz, Warsaw, Kalisz, Bialystok and other Polish localities each boast a plurality of volumes, the genre has unfortunately neglected Odessa, Kiev, Jhitomir, Moghilev and many other important eastern communities.
Most yizkor books were compiled after 1945 by groups of survivors belonging to landsmanschaft societies in Israel, the United States, Canada, Argentina and Brazil. They were usually written in a combination of Hebrew and Yiddish, and printed in limited numbers expressly for other survivors and their families. Their purpose was generally to fulfill a deep-felt need to commemorate the dead.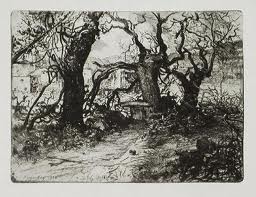 The books generally adhere to an established format. The typical volume contains a historical sketch of the community, usually in a chapter about the town's pre-WWI days. There follows a chapter on the interwar period, featuring personal reminiscences and rich descriptions of communal and educational institutions, social and religious life, and prominent personalities from the revered rabbi to the local water-carrier.
Then, like the darkest thunderclouds intruding on a sunny Sabbath picnic, come details of the Shoah: descriptions of witnessed atrocities, deportations and death camps. Necrologies — lists of the dead — are presented on pages with heavy black borders. Some books offer full obituaries with photographs of beloved mothers, fathers, children, grandparents, cousins and friends who, strangely and eerily, are almost never smiling.
Although not comprehensive, the necrologies still make yizkor books uniquely valuable to genealogists and family historians. A foremost authority on yizkor books, Zachary Baker, former chief archivist at YIVO, once lamented that professional historians have underutilized these first-hand sources, preferring more "objective" views that have not been filtered through the bleak prism of the Holocaust. Alas, a scholar once cavalierly dismissed these earnest monuments of love and grief as "tombstones, not books."
Verily, they are both. As Kugelmass and Boyarin observe, "The volumes typically open with a frontispiece featuring symbols of mourning as well as symbols of life destroyed: a talis (prayer shawl) draped over a tombstone; a ghostly figure rising from the grave, his eyes covered by his hands and tears falling; a menorah overturned, its candle flames igniting the entire town; a tree cut down at the height of vitality, with a small green shoot growing from its stump."
From A Ruined Garden contains about 60 excerpts from yizkorbucher, translated from the original Yiddish or Hebrew into English. Besides the various warm and often humorous tales of prewar shtetl life, the book carries sombre accounts of political activities in the shtetl and, ultimately, the criminal devastation that occurred after 1939.
Kugelmass and Boyarin ask an essential question: if there were no precedents for yizkor books in Jewish literary history, how did these tomes emerge as a distinct genre so quickly after the Shoah? The answer is that they were with us all along, in slightly disguised form, probably right from the Babylonian exile following the destruction of the First Temple.
Devastated by Christian crusaders on the march to Jerusalem, Jewish communities along the Rhine began to read from lists of dead at prayer services; over time, the names of victims of later massacres and catastrophes were added to these books. Many German communities maintained such memorbuecher; so did Vienna, Amsterdam and other diverse communities.
Such works were likely a precursor to Rabbi Nathan Hannover's famous 17th-century chronicle Yeven Metzulah ("Abyss of Despair"), which depicted Jewish life in Ukraine and eastern Poland during the Chmielnicki massacres of 1648-49. The author gave a vivid and graphic account of atrocities committed, but his first-hand narrative lacks a black-bordered necrology, the hallmark of the modern yizkor book.
Less than three centuries later, in 1919, upon the very same Ukrainian killing fields, modern-day Cossacks slaughtered thousands of Jews in the town of Proskurov, now tellingly renamed Chmielnicki. Khurbn Proskurov, the memorial volume that appeared in 1924, is regarded as the first of the modern yizkor books.
From A Ruined Garden Garden remains an excellent means by which readers with no Yiddish or Hebrew may sample the contents of memorial books. The second edition also contains Zachary M. Baker's updated bibliography of Eastern European Memorial Books, as well as an index of places mentioned in the text. ♦
© 2001