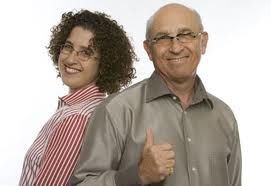 "The name Halpern has been over the doors of men's wear stores in this city for more than 75 years," says Meredith Halpern, manager of H. Halpern Esq., an upscale boutique for gentlemen in the lobby of the InterContinental Hotel on Toronto's Front Street W.
Generations of Torontonians bought their bar-mitzvah suits at the original Halpern's on Yonge Street at Melrose, recalls Meredith as she and her father, proprietor Howard Halpern, show off their colourful and stylish shirts, ties, cufflinks and, yes, socks.
Spiffed out in the sort of sartorial elegance that lines the shelves of H. Halpern Esq., the father and daughter are the second and third generation, respectively, of a family tradition that began when Howard's father, Max Halpern, opened the original store in 1928 along what was then a dirt road at the city limits. The family lived upstairs.
Howard, 62, swept floors and worked in the warehouse from the age of eight. Both he and his brother Cecil joined the business as adults, but when the firm began specializing in uniforms about 1970, Howard left to found H. Halpern Esq.
Throughout the '80s and '90s the company grew into a chain with 11 stores across southern Ontario, then downsized to its present location in the Intercontinental Hotel (formerly the Crowne Plaza), where it has been for 20 years.
The hotel is adjacent to the Metro Convention Centre and H. Halpern Esq., which is the only shop in the lobby, attracts carriage-trade customers from all over the world.
Many come in and spend $89.50 or $195 or more for a shirt suitable for both a corporate boardroom and the golf course — and one that will ensure they'll be noticed.
"Our shirts are unique," says Howard. "We try to create non-mainstream merchandise, whether it's a collar treatment, cuff treatment or an unusual design."
The store's exotic Italian shirt labels as well as its own "Elegance by H. Halpern Esq." label attract an unusual mix of clients, Meredith says.
"Recently, we had at the same time in the shop, a Jewish gentleman in his late 50s from Queens, buying the exact same shirts as two of the Harlem Globetrotters. We have a young black demographic from the United States, including a lot of deacons and preachers."
French cuffs and old-fashioned hi-boy collars from the '50s have become popular again, Howard observes, but not in the same semi-formal context as yesteryear. "Even the younger generation are wearing these as party shirts to go nightclubbing, without a tie, untucked," he says. "Now they wear them with jeans."
Some customers place additional orders with the shop after returning home, sometimes totalling $2,000 or more. In response to last year's sharp downturn in convention business as well as a recent four-month period of hotel renovations, the firm has worked to build up its mail-order business and develop a web site.
The company still conducts itself according to the golden rule Max Halpern instilled in his son decades ago. "'Don't sell something to a customer that you yourself wouldn't wear. It has to make sense,'" Howard quotes.
"Our shirts are for people who want to show off their 'bling,'" says Meredith. "I laugh at this expression. 'Bling' has apparently been put in the dictionary. It's like the sparkle off the diamond. It means people who like to show off their money, people who want to stand out from the crowd." ♦
© 2004