The following collection of articles relates to Harry Winberg (also spelled Wineberg), the self-made, Donald-Trump-like Toronto real estate mogul who owned and published the Hebrew Journal, and who was likely the city's first Jewish candidate for Mayor in 1915; there are also articles related to his wife and in-laws, the well-known Bachrach family. These articles put to rest the incorrect notion that Jews had little to do with city politics in the early years of the last century. Rather, as one of the articles demonstrates, Jewish voters — who represented as much as 10 per cent of the voting population — were very much courted by the politicians of the day; the Conservatives allegedly even offered them favours to switch their vote and forsake the municipal Liberals with whom they were strongly allied. The "radials" mentioned below refer to the "radial" streetcar lines being proposed for the city; then, as now, mass rapid transit was an important election issue.  
* * * 

Harry Winberg says Work Put Him on Easy Street
Emigrated to America, Aged 10, Friendless, Without a Cent, Without Knowledge of English Tongue
Blames Mayor for Civic Ills
From The Toronto Daily Star, December 29, 1915
Who is this man Harry Winberg, who has the temerity to offer himself for the Mayoralty of the City of Toronto?
Well, to begin with, he's nobody's fool. That much can be settled right off the reel. Winberg is a "wisenheimer." That is to say he is a graduate of the school of actual business as it is done. He is no professor of economics. He went to the school of experience, and he carries the degree D.H.K., which means Doctor of Hard Knocks.
Harry Winberg is a Russian Jew, if that is an insurmountable handicap for an aspirant to the Mayor's chair in this city — don't vote for him, that's all. But Mr. Winberg points out it has not been an insurmountable barrier in England.
Nor has his Jewish birth and faith proved an insurmountable handicap to Mr. Winberg's success in the world heretofore. Neither did his more formidable handicap of being born in Russia keep him down.
Story Has Romantic Side.
The story of Harry Winberg, candidate for the Mayor's chair, will read like a romance. Born in Kovno, Russia, of Jewish parents and of Jewish stock, which had been settled in Russia for at least 15o years, Harry, at the age of ten, decided to get out of that country and seek a land where opportunity was more open.
He had a married sister living on Queen street, where she and her husband kept a little grocery shop. He journeyed to Hamburg, and thence to New York and Toronto absolutely alone, knowing no word of English, at the age of ten years. He was not destitute of schooling, however, for he had made good use of such limited facilities as were afforded to Jewish boys in Kovno. He could speak Jewish, Russian, Polish and German. To these he has added a fair working variety of Canadianized English.
Once in Toronto he lost no time. He went right to work. He didn't wait to learn the English language, nor to go to a business college; he went right to business, and by the shortest, most direct route he knew. His father had been a wheat merchant in Russia, and Harry was born with business instincts. So he went out into the country with a pack on his back and peddled. It was nothing to be ashamed of, and he is proud of it, and values the experience he obtained that way. It has been useful to him and is useful to this day. He got a knowledge of Canadian human nature and the customs of this country more quickly than he could have acquired at a university. And he got his business training from the ground up.
Becomes Wholesale Peddler.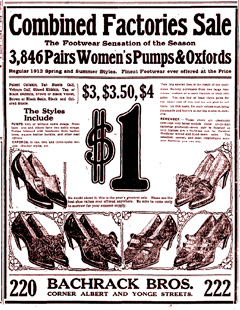 After a few years he advanced from retail peddling to wholesale peddling, dry goods being his line, and he sold goods to the country stores. A few years later, at the age of 24, he opened a retail jewelry store on Queen street west. He thrived to the extent that he was able to remove to Yonge street, renting the jewelry department of Backrach's department store. This he developed from a business of a few dollars a day to one of ten times that amount.
Incidentally, he married the daughter of the late Mr. Morris Backrach. When the Backrach store was sold to the T. Eaton Company, Mr. Winberg opened a jewelry store for himself further up the street. Later he sold out and built an apartment house, one of the first in the city. This proved the first of a series of real estate ventures and for a number of years Mr. Winberg dealt heavily in central city property.
Three or four years ago, he "got a hunch" that it was time to unload, and he sold out all his holdings. As he says, he "made good." The market for real estate came a cropper but Harry Winberg didn't. He had cleaned up very nicely. He retired from real estate and went into the publishing business. He bought the Jewish Journal, two years ago. And it is paying its way now. Harry Winberg is the proprietor, publisher, and business manager. And he sets the editorial policy. But with details he doesn't interfere. He has men for the details.
If they do well, they don't have to ask for an increase of salary. If they don't do well, he can't get rid of them too quickly. That is Winberg's policy in the management of all his affairs. That's the way he would manage the affairs of the city. He doesn't believe in life appointments. He likes to be able to break connections at a day's notice. He favors a commission for the Fire Department, but would let commissions run only for a year, renewals if satisfactory every twelve months. ♦
* * *
"Jolly Good Fellow, Poor Business Man"
This is Harry Winberg's Description of Mayor Church — Doesn't Mince Words
HE WANTS NO SALARY
Believes in Public Ownership, But Is Skeptical About the Radials
From the Toronto Daily Star, December 29, 1915
At a meeting of the North Riverdale Ratepayers' Association last night, Mr. H. Winberg, mayoralty candidate, promised to donate the Mayor's salary to the Patriotic Fund if elected.
Controller Thompson declared that the Board of Control had done much to aid recruiting and to look after the soldiers after they returned from the front. He stood behind every dollar that had been spent in that way.
Referring to the radial by-law, he declared he was in favor of it. He had fought for Hydro lighting years ago. The result of the system was a cut of 49 per cent in rates.
"This radial system is a twin-sister of the Hydro lighting," declared the controller. One reason why he heartily supported the scheme was because he had great confidence in Sir Adam Beck.
"They are not going to take our streets," declared the controller. "Who has stood more to protect municipalities than Sir Adam Beck?"
Mr. Thompson said he had reason to believe that if the by-law is defeated in a few years a steam railway now operating westerly would construct an electric railway over the same right-of-way."
Looks Small — But is Big Enough.
Mr. Harry Winberg, mayoralty candidate, exhibited great confidence.
"I might look small as to size, but I am satisfied that I would be able to fill the highest position in the city. I am capable of undertaking the office. My platform is simply a business proposition. Every British subject had the right to aspire to the position. I have known the mayor for years. He is a jolly good fellow, but a pretty poor business man. (Laughter.) I think I am entitled to your vote, if for nothing else, on the way Mayor Church has conducted the city's business this year. If you are satisfied, I suppose he will go back to his soft seat again. The mistakes of the year had been too much for me, although I am a Jew."
He was not running as a religionist, but as a British subject. He pointed out that Jews had fulfilled high honors in the British Empire and not one had disgraced the office.
"If a Jew is given a chance he will not abuse his office," declared Mr. Winberg amid applause. "Elect me mayor and you will have the best administration you have ever had. I can't do worse than Mayor Church has done, anyway." (Laughter.)
Consult the Citizens.
He believed that the citizens should be consulted on important questions during the year. "I don't believe in the members of Council going around kissing the babies and shaking hands one week before elections." He promised that, if elected, he would consult the citizens.
He said that although he would only be one in Council, "a fly can tickle the life out of an elephant." (Laughter.)
"What about salary?" asked a member of the audience.
"If elected, I will donate my salary to the Patriotic Fund," declared Mr. Winberg, amid warm applause.
Answering another question, he said that he would support a more equitable assessment as a business proposition.
"Does Mr. Winberg favor promotion in the Fire Department, or would he bring in an outsider?" asked another.
"I favor promotion, but if a man is needed to administrate the business end of the department, I would get the best man possible, even if I had to go to Europe for him."
Asked about his stand on the radial by-law, he advised his hearers to vote against it.
"I believe in public ownership at the right time and right place, but the man is not born yet who can consider a $4,000,000 proposition and make up his mind overnight. . . . "
"But the city is only guaranteeing the bonds," pointed out a ratepayer. "If everything goes all right, the city won't be called upon for a cent."
"If you endorse a note for a friend, if everything goes all right, he pays. If not, you pay," replied Mr. Winberg. ♦
* * *
Tells How Jewish Printers Turned Down Tory Offer to Tie Up a Hebrew Paper
Joseph Singer, the Liberal Jewish alderman in Toronto and head of the municipal Liberals, talked on a variety of political topics at a packed rally at Massey Hall on October 15, 1919, details of which were reported on the front page of the Toronto Star the next day. One of the controversies concerned the distribution by Government vehicles of 108 bottles of "vishnick" — a type of liquor — to one address for distribution to Jewish voters as a political favour meant to sway votes. Singer revealed how someone supposedly connected to the Government had offered large sums of money to the staff of the Hebrew Journal to take holidays until after election day (October 20). Excerpts of the article:
* * *
From The Globe, October 16, 1919
Every seat in the large hall was filled to hear the Liberal Leader and other Liberal candidates. There were many women and returned soldiers in the audience. Enthusiasm was at a high pitch. Cheers and hand-clapping interrupted the various speakers. There were no interruptions. All the speakers were listened to most attentively. Capt. Ramsden and Mr. Dewart were given an especially warm reception. The G. W. V. A. Band provided a musical program prior to the meeting. Ex-Controller John O'Neill, Liberal candidate for Seat A in Southeast Toronto, spoke, and the other speakers were Mr. R. J. Gibson, Liberal candidate in East York; Mrs. J. W. Bundy, Liberal candidate for Seat B, Northeast Toronto; Capt. Ramsden, Mr. Singer and Mr. Dewart.
The story which Mr. Singer told held the audience in close attention, and as he scored his adversaries, first by presentation of facts, and then by clever satire, he was warmly applauded. He was introduced to speak on a "Recent Occasion," and he lost no time in getting at the kernel of the subject. He quoted from an evening paper the statement that the Conservatives resented the exposure made by Mr. Dewart of the distribution of "vishnick."
"Why are the Conservatives resenting that which they brought about and which they allowed?" he asked.
Jews Respect Liberalism.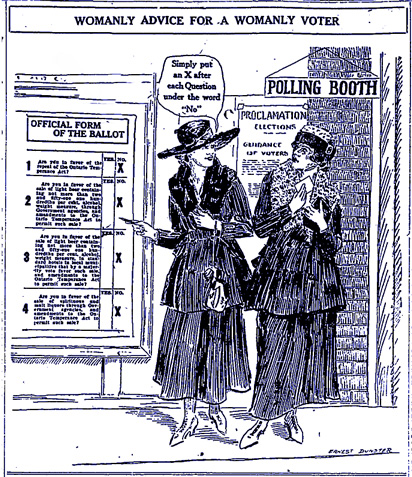 "I am a Jew. I am here as one of those Jews who resent the position in which the decent Jews of the city have been put," he declared. "The Jewish vote in Toronto has been for years 95 to 99 per cent Liberal. The Jews in the city of Toronto respect and love the principles of the Liberal party. The Jewish vote in the city of Toronto was used to elect Mr. Dewart in the by-election, and it will be used for the same purpose again on October 20."
If, as a speaker at a Conservative meeting had said, the Jews were only 10 per cent of the voters in Southwest Toronto, he asked why the Government was so active in trying to influence that vote. Mr. Harry Wineberg (sic), proprietor of the Hebrew Journal, Mr. Singer said, was a Liberal, and his paper had been used to support the Liberal party.
"During this election offers have been made to Mr. Wineberg to name his own price if he would change his politics," declared Mr. Singer, and the audience applauded loudly at this exposure of political trickery. "That offer has been refused," he added, and again there was applause. "If Mr. Gooderham is not prepared to spend $100,000 in this campaign, as suggested by Capt. Ramsden not long since, I would like to ask you where the money is coming from to do certain things I am going to tell you about.
Who Put Up the Money?
Mr. Wineberg has to have employees. I wonder where the money came from to offer the two linotypers in his employ the sum of $600 each if they would take holiday for ten days, or until after the election?
"I wonder where the money came from to offer other employees in Mr. Wineberg's employ from the Editor-in-chief down to the janitor sums of money if they would take holidays until after the election. Of all the employees only one fell for the plan.
"Where is all the money coming from?" he asked. "Who is going out doing these things? Does Mr. Gooderham say that these people who go to the employees, and haven't perhaps got $1,000 to their names, can go down to The Hebrew Journal and offer them sums such as they have not seen in all their lives?"
When it was found impossible to control the politics of The Journal, Mr. Singer said, there was only one other thing to do, and that was done. Another Jewish paper was published known as The Jewish World. "That is a new journal that has been published to educate the Jews of Toronto with Conservative ideals," he said. "The journal was published in such a hurry that in the first issue it is dated Monday, October 31." (Laughter.) that was the day it would go out of existence, too, the speaker ventured to predict.
For the purpose of publishing The Jewish World linotypes had to be secured. There were only two available in the city, and these, being Mr. Wineberg's, could not be secured. Consequently a linotype that will set Yiddish had been purchased and brought into the city to enable The World to be published.
"Where are they going to get the funds to publish this newspaper?" was the pointed question asked by Mr. Singer.
Victory Loan Ad.
There was another amazing thing about this new paper. Although it had no circulation, and was distributed free, it was found that in the first issue there was a full-page advertisement for the 1919 Victory Loan.
Mr. Singer then turned his attention to the distribution of "vishnick" . . . . ♦
* * *
$95,615 Estate Left by Toronto Merchant
Morris Bachrack, Well-Known Dry Goods Merchant, Bequeaths Fortune to Family
From the Toronto Star, October 25, 1919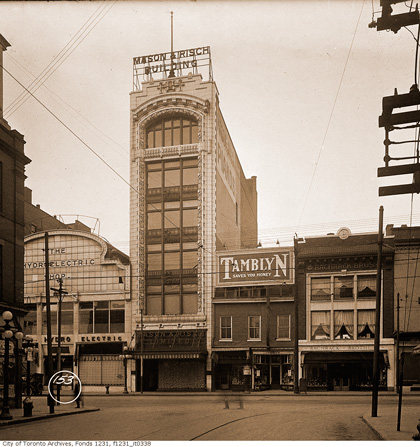 Morris Bachrack, the well-known Toronto merchant, who died on March 17, 1919, left an estate valued at $95,615. This included real estate, being his home at No. 337 Sherbourne street, valued at $18,000; household goods, valued at $1,000; book debts, $21,000; insurance $3,877; $30,000 stock in the Bachrack Company, Limited; $900 in shares in the Cosmopolitan Club of Toronto; $19,800 in the bank, and an automobile valued at $1,000.
By his will, his three sons, Benjamin, Solomon and Emanuel, of New York, were appointed the executors of the estate. The $30,000 in shares of the Bachrack Company was divided equally among the seven sons, Julius and Harry, in Toronto, and Solomon, Benjamin, Emanuel, Louis, and Oscar, in New York. Mr. Bachrack was the founder and president of the Bachrack Wholesale Dry Goods Company of Toronto and New York.
Each of his daughters, Isabel, Ruth and Charlotte, of Toronto, and Mrs. J. E. Goldman, of New York, were bequeathed $5,000 to be paid when they should attain their majority or should marry.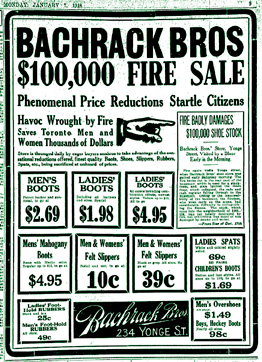 The income from the insurance, a capital sum of $3,877, is, by the will, for a period of ten years, to be divided equally among the Jewish Day Nursery and Children's Home, the Toronto Hebrew Religion School, Toronto Hospital for Incurables, the Hospital for Sick Children. After the lapse of ten years, the insurance money may be disposed of at the discretion of the executors.
The remainder of the estate is to be divided in equal shares among the eleven children. McWhinney and Brown are the solicitors for the estate.
Morris Bachrack was born 59 (69?) years ago in Russia. When he was only 12 years old he went to New York, and came to Toronto in 1887. He started a retail dry goods business on Queen Street west, and twenty years ago moved to Yonge street, to the store that was subsequently taken over by the T. Easton Company. After that he established the Bachrack Dry Goods Company. ♦
* * *
Obit: Mrs. Harry Winberg Dies, Had Been Ill 3 Months
Deeply Interested in Jewish Philanthropic Work
From the Toronto Star, March 19, 1925
After a protracted illness of three months the death occurred last night of Mrs. Harry Winberg, at her residence, 41 Lake Front avenue. Mr. Winberg, husband of the deceased, is the proprietor of the Hebrew Journal.
The late Mrs. Winberg was 48 years of age. She was born in New York city and came to Toronto when she was two years of age. She was educated at the Keeley street public school and Jarvis collegiate.
Mrs. Winberg was a daughter of Mr. A. I. Bachrack, one of the oldest Jewish merchants of Toronto. She was deeply interested in Jewish church work and was a member of the congregation of the University Avenue Synagogue.
She is survived by her husband and two daughters, Misses Ethel and Lottie. The funeral was held this afternoon at three o'clock at the University Avenue Synagogue cemetery. ♦