Sadie Shapiro's sparkling blue eyes are an expression of the positive outlook on life she has had for 100 years.
Interviewed at her residence at Cummer Lodge, Shapiro spoke of her eventful life and her philosophy that has kept her cheerful and optimistic despite many adversities.
Shapiro was born in Toronto on June 14, 1908. Her parents, Bessie and Maxwell Blumenthal, had come from Russia at the turn of the century. She attended Clinton Street Public School, Harbord Collegiate and Oakwood Collegiate and went on to study at the University of Toronto.
It was rare for females in the late 1920s to study in university, particularly Jewish females. Shapiro received a master's degree in child psychology.
She says she loved working with young children — she taught preschoolers at Hillcrest Progressive School, and later, as a volunteer, she was one of the founders of St. Christopher House, which started as a preschool facility for underprivileged children.
"I enjoyed these volunteer activities," says Shapiro. "I had many other volunteers who came to help at the school."
She does not like to look back at unpleasant events in her life, but speaks with pleasure about her devoted daughter, Joy Pass, and her late husband, pharmacist Harry Shapiro, whose landmark drug store was at Spadina Avenue and Dundas Street.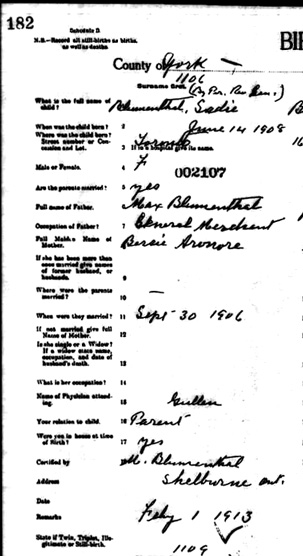 "We had a great marriage. I was divorced with my teenaged daughter when I met Harry, and after we married, we had a wonderful life." She says that in addition to her volunteer work, they travelled and she played golf. She was active in the Lillian Freiman chapter of Hadassah-WIZO and served as president.
Shapiro says she took many courses over the years, particularly in literature, because she enjoys reading.
With pride, she displays a book published by The Ryerson Press titled Through My Eyes: An Adventure in Art and Travel.
"Harry and I went to Israel in the 1960s and we became fascinated with the country. Although Harry had never been involved with art, when he returned, he took crushed stones and created Israeli scenes, and together we created the text and included 16 reproductions of Harry's paintings, very reminiscence of Israel."
Looking back, she modestly says her greatest achievement in life "was having my daughter Joy, who gave me the most beautiful 100th birthday party. And I love my two grandchildren and three great-grandchildren dearly — they bring me a great deal of joy."
Shapiro has a joie de vivre despite being confined to a wheelchair after she had hip surgery. "But I go to many activities and enjoy the current events courses and discussions, and my favourite show is Jeopardy"
As we say goodbye, Shapiro says, "I'm suppose to get old at my age, but I am young at heart."
It is this philosophy that has made Sadie Shapiro a young 100 year old. ♦
This article appeared originally in the Canadian Jewish News and appears here courtesy of the author. © 2008 by Cynthia Gasner.
* * * 
About Hillcrest Progressive School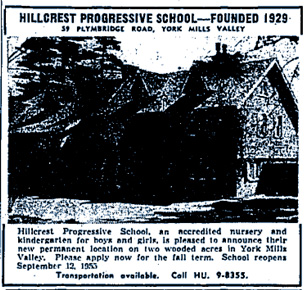 Hillcrest Progressive School, Ontario's oldest Jewish day school, was founded in the fall of 1929 by a group of parents excited to provide their children with an enhanced Jewish education from pre-school through kindergarten. With a pioneering spirit, these parents worked to establish a school where children would receive an education along modern, progressive lines, including aspects of their Jewish heritage delivered in a manner that made it meaningful to young children.
In 1934 the school was chartered under the name Central Jewish Institute and continues to operate as a non-profit organization, supported only by tuition fees without the benefit of endowments or subsidies of any kind.
Hillcrest was originally located in a rented house on Christie Street in downtown Toronto before moving to 574 University Avenue in the early 1930's. In 1946 the property on University Avenue was expropriated for the construction of the former Mount Sinai Hospital (now the Queen Elizabeth Hospital) and the CJI purchased a house at 561 Avenue Road and converted it for use as the school.
In 1955, the Avenue Road property was sold for redevelopment (it's now an apartment complex with a four-star restaurant in its lobby), and the present location in Hogg's Hollow was purchased. The building was a gracious home set on two acres of wooded land only a few miles from downtown Toronto at the city limits. In 1977, a parcel of land adjoining the school was sold in order to provide funds to enhance and upgrade the existing facility. The character of the original farmhouse has been carefully maintained in its original, natural setting in the Valley. ♦
For more information, please visit http://hillcrestschool.ca