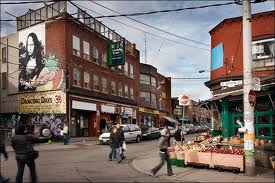 Several hundred people attended a plaquing ceremony in the Kensington Market area on Sunday May 25 as a plaques was unveiled designating the once-Jewish neighbourhood in downtown Toronto as a national historic site.
The event was sponsored by Parks Canada and included speeches by important delegates, including the Hon. Jason Kenney, secretary of state for multiculturalism and Canadian identity, Toronto mayor David Miller, and representatives of several ethnic communities.
Representing the Jewish community were David Koschitzky, chair of the UJA Federation of Greater Toronto, and Dr. Ellen Scheinberg, director of the Ontario Jewish Archives, both of whom made short addresses from a flag-draped podium in Bellevue Square, just steps from the old Kiever Synagogue, where a wedding was taking place.
The government's recognition of the neighbourhood "will ensure that the important history of this district will be appreciated for generations to come," Kenney said.
Kensington Market was an important staging ground for English and Irish working-class immigrants in the mid-to-late 19th century. A second wave of immigrants composed of European Jews settled there between 1905 and 1930, and established the market and family-owned shops that defined the neighbourhood's character. Waves of Portuguese, Chinese, South Asians, Afro-Caribbeans and other immigrants added new flavour and colour in the post-war era.
Parks Canada arranged for both klezmer music and cake following the ceremony. Hermes Bakery provided a large kosher cake decorated with depictions of the area's many Victorian houses, streetscapes and distinctive buildings, including the Kiever and Minsker Synagogues. It proved a crowd-pleaser.
"The professionals who worked with us from Parks Canada – they were fabulous, by the way – wanted a cake for 400 people, and it was gone by the end of the event," said Cyrel Troster, a board member of the Ontario Jewish Archives which gives occasional guided tours of the Spadina area, some hosted by Troster herself.
The plaque unveiled at the event will be permanently installed shortly. A second plaque, featuring the same illustrations and neighbourhood map as on the cake, should be installed within several months.
Beside a nearby park bench, a near-lifesize statue of Al Waxman, the former "King of Kensington," seemed to smile approvingly at the proceedings, happy that his childhood domain was getting more of the recognition it so richly deserves. ♦
© 2008