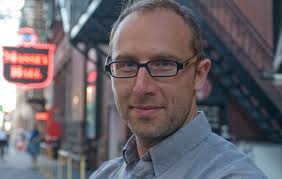 David Bezmozgis, celebrated author of the prize-winning book Natasha and Other Stories, was on skates in North York Centennial Arena recently, along with a camera crew and a group of teenaged actors in skates and hockey uniforms. All were involved in filming a scene from Victoria Day, a feature film that Bezmozgis is directing, based on his own script, in association with the Toronto-based production company, Markham Street Films.
"I played hockey at Centennial where we are right now," Bezmozgis said during a lunch break to explain his facility on ice. His facility as a film director may be explained by
his training at the University of Southern California School of Cinema-Television and his previous experience directing one feature and two short films.
His last directorial experience was in 2003 when he created The Genuine Article, a documentary on the recruitment of articling students that appeared on CBC's The National. Since then, he's concentrated on writing prose fiction, including the stories in Natasha, which earned more than a dozen prestigious awards and notices, including the City of Toronto Book Award and inclusion on the LA Times' 25 Best Books of the Year listing for 2004. Since Natasha's brilliant reception, he's been at work on a novel.
He wrote Victoria Day about eight years ago. It's a coming-of-age tale in the life of Ben Spektor, teenaged son of Russian-Jewish immigrants in Toronto. Ben loans some money to a fellow hockey player, who promptly disappears, after which Ben begins a romance with his sister. "Our hero has always had a crush on this boy's sister and he's never been able to pursue her because of the brother," Bezmozgis said. "But now that the brother is strangely out of the picture, the romance develops. It takes place over a period of about five days while this kid is missing."
Like the stories in Natasha, the tale conveyed in Victoria Day contains emblematic aspects of Bezmozgis's own teenage years in Jewish North Toronto of the 1980s. But unlike the stories in Natasha, the tale in Victoria Day is less dependent on finely-wrought prose and had an immediacy and visual quality, Bezmozgis sensed, more appropriate for the screen.
Just as he seemed comfortable on skates, Bezmozgis said he felt comfortable in the medium of film, even as a crew of cinematographers, production assistants, gaffers and other assorted technicians thronged around him.
How does making a film compare with writing prose? "It's a far more collaborative medium," he acknowledged. "But in some senses the film is better because I'm not the only guiding creative light. There are people here — the cinematographer, the art director, the sound guy — who know those facets of film work better than I do. And it's a question of finding the right people who know your sensibility, and working together, and often times elevating what you do. And that's been my experience on this film. ♦
© 2008