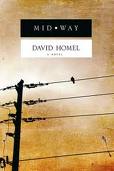 The first several chapters of David Homel's sixth novel Midway are written with such sure-footedness of structure as to float the promise of a story that would really be going places.
The protagonist is Ben Allan, a middle-aged Montreal college prof who writes an award-winning paper on an obscure 19th-century psychological condition called dromomania, an uncontrollable urge to wander. His inner circle consists of a crusty old widower father, Morris, who lives in a seniors' residence; his art-therapist wife, Laura, and TV-addicted teenaged son, Tony; and Willis Barnstable, his collegial friend who, having caused a sexual fracas on campus, yet advises him on political correctness.
Both Ben's father and son seem to reside in a mental fog, a condition that Ben, midway between the two, may also be experiencing. When a dim bulb named Carla McWatts comes to interview him for a college newspaper, Ben seems to lose his familiar moorings and contemplates an affair, seemingly just for the sake of shaking himself out of his stupor.
Homel writes with intelligence and humour; the way that Ben and Carla keep missing each other, like two nocturnal vessels on a vast ocean, is comical. Ben's deep satisfaction at inhabiting her empty apartment without consummating their relationship signals that there is much more than a case of The Seven Year Itch at play here. (He also spends oodles of time hanging out at his father's place.) A reservoir of middle-aged angst, Ben is desperate for some new vistas and secret worlds to explore.
While ever elusive, Carla draws him into a weird little psycho-drama that takes over the rest of the novel and transforms it from the outward-bound journey that the reader expects  into a frankly strange and confused inner journey with sharp gothic overtones (mad doctor, secret dungeon, dazed inmates, mysterious females, allegorical halls of mirrors).
I admit that Ben Allan's fascination with dromomania had created an expectation in me that he would walk away from his life; as does the middle-aged protagonist, for example, in Anne Tyler's 1995 novel Ladder of Years, who unexpectedly walks away from her husband, children and luggage while at the beach, only to set up a parallel life for herself in another town. There is, alas, no such exterior action in Midway.
Like the little boy who wants to run away from home but is not allowed to cross the street, Ben pursues his psychic quest around his own town on evenings and weekends. Midway into the novel, part of me began humming: Get on the bus, Gus, make a new plan, Stan, drop off the key, Lee, and get yourself free. But that just didn't happen.
Don't get me wrong: Homel has crafted many sharply-drawn scenes and much good dialogue, and he possesses a wonderful Nabokovian sense of play. But characters must change in a fundamental way if a story is to have meaning, and the only discernible change in Ben Allan at the end of Midway is that he develops a nervous tic. ♦
© 2011