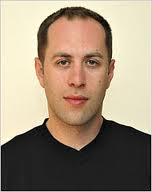 Like David Homel's Midway, The End of the Jews by Adam Mansbach is a witty literary miniature with Jewish characters.
Published in 2008, it tells the story of three interlocking characters — a grandfather and grandson both named Tristan Brodsky, and Nina Hricek, a teenaged photographer in Czechoslovakia. The narrative unfolds in the present tense with as many twists and turns as improvisational jazz. In fact, jazz and jazz musicians play a prominent part in the story, and — as is said of good jazz — the writing at times seems to be "really cooking."
In one memorable scene, the younger Tristan's parents drop him off at Tristan the Elder's place, needing some respite from their teenager, hoping the old man will help tone down his wild excesses. But, possessed of a spark of rebelliousness himself, Tristan pours Tristan a drink, then gleefully accompanies him on a graffiti-painting spree.
Half a world away, Nina lives with her mother in Prague after her refusenik father has been allowed to travel to the West. He was supposed to get a job and send for them, but instead he abandons them and disappears. Years later, Nina is hired as a photographer for a touring jazz band, then escapes her mother for America. Eventually she finds her father with a new wife, working at a small college in California. They mean nothing to each other any more.
Through plot and dialogue and lyrical writing that aspires to poetry, Mansbach brings out the magic of the moment in delightful and unexpected ways. He moves the focus from one to another of his three protagonists until their stories merge at the end. As for the novel's strangely over-reaching title, it is seemingly a comment that in the spontaneous world of action, tradition-bound Judaism acts as a wet blanket, taking the fun and spontaneity out of life.
Morris Allan, the elderly character in Midway, has a similar complaint when he harangues a group of Hassidic Jews on the streets of Montreal because tradition has forced them to sweat it out beneath heavy black coats on a warm day. It is this shared tendency to complain that definitively brands both Homel and Mansbach as modern Jewish writers. ♦
Postscript: Mansbach is the author of the subsequent phenomenal bestseller Go the F**k to Sleep. 
© 2011