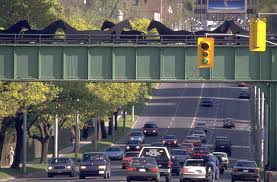 No, it isn't an advertisement for Marlboro Cigarettes.
Those dozen horses, seen in silhouette on an old railroad bridge that spans Yonge Street below Davisville, are the work of 34-year-old site-specific sculptor Robert Sprachman of Toronto.
Entitled The Iron Horse, the sculpture consists of 12 life-sized silhouettes of horses arranged on the defunct Beltline Railroad Bridge which also crosses the Davisville subway yard. The official unveiling of the installation was May 5 (1994).
Working in the tradition of the American artist Cristo, Sprachman became intrigued with the site, then conceived of the project two years ago. However, the Ontario College of Art graduate could not lasso the necessary dollars from city officials, so he put the idea temporarily to pasture.
Last fall, he was again spurred into action with the realization that he could raise the money himself. After attaining approval from the Public Art Commission of Toronto and Toronto City Council, he quickly corralled several donors who were willing to rustle up $10,000, enough to cover his hard costs and incidental expenses.
A major sponsor is Plastiglas Industries Ltd., which manufactures the fibre-reinforced plastic of which the horses are made. Composed of mostly recycled materials, the substance has ten times the strength of concrete and can be moulded and finished to simulate almost any material. Other sponsors include David and Vivian Campbell, Nancy Draper, Carol and Morton Rapp, Carol and Mandel Sprachman, and Burle and Louise Yolles.
Why horses? Part of it has to do with our associations with the train — the iron horse — and part with the recognition that most forms of modern transit evolved from the horse.
"I think with something like this, you can start off on a very superficial level. You can say, 'There's a horse on the bridge' — even a two-year-old can look up and see that.
"And once you've made that connection you can go a step further and say, 'Okay, why are those horses on the bridge, what does it mean?' I really believe you can take this piece as far as you want. There's the art history aspect, there's our relation with nature, there's time, there's history, there's all of these things. But I don't want to impose an interpretation on anybody, either."
And what if someone supposes it might be an ad-in-progress for Marlboro smokes? "That's great," exudes the bearded artist with a smile. "That's highly indicative of how we think these days."
Sprachman says it was a fortuitous coincidence that the city had been planning to reopen the bridge and this section of the belt line as he approached them. Originally laid in 1889, the Belt Line Railroad served as a commuter railroad in what was then suburban Toronto. Too costly to operate, the commuter service closed two years later, but the rail line served local industry until 1970.
Made into a park that attracts many joggers and cyclists, the belt line runs from the Allen Road to its present terminus east of Yonge Street. According to Sprachman, the city eventually intends to extend the park beyond Mount Pleasant Cemetery to Moore Avenue.
Sprachman likely learned much about contextual art from his father, the noted architect Mandel Sprachman, who restored Toronto's much-praised Elgin-Winter Garden Theatre and built many theatres around the world. His late grandfather, Abraham Sprachman, was one of the first Jewish architects in Toronto, and designed the landmark Eglinton Theatre and other theatres around Ontario.
"My father and grandfather created architecture related to entertainment — all their movie houses and concert halls — so I think that an element of entertainment is key to what I do."
The Iron Horse is a temporary installation. The horses stay put for six months. After that period, Sprachman, who has donated his time and energy to the people of Toronto, hopes to sell them individually.
"As an emerging artist, I think it's important to get the exposure and recognition. I don't think artists are in it for the money. If I can make enough money to live, that's fantastic. I'm just delighted that I was able to cover my costs on this project." ♦
Note: Robert Sprachman's horses graced (grazed?) the site for some years but, alas, eventually  moved on to greener pastures. 
© 1994
You may also want to read the obituary for Toronto architect Mandel Sprachman (click on link).