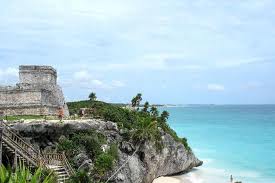 "The main thing to remember," said Pepe, our Mexican guide, "is that the Mayans believed in reincarnation. They believed that unless they fed the sun every morning it would not rise."
High on a promontory overlooking Mexico's Yucatan coast, Tulum is the only temple the Mayans built by the sea. Considered holy ground, it was never occupied. But it was the focal point of a thriving city in the jungle — until the day Spanish galleons appeared along with the blood-red sun on the eastern horizon.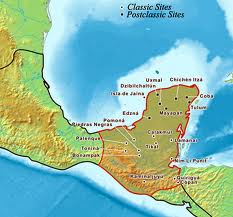 Today it is a well-preserved ruin, one of the smallest and youngest in Mexico. As with other temples in the region — Uxmal, Palenque, Chichen-Itza, Coba — the Mayans practised human sacrifices here. The practice appalled even the cold-blooded conquistadors.
The Temple of the Descending God, where the natives nourished the sun every morning, must have been an awesome sight to Spanish eyes from across the azure-turquoise shallows. Yet they could not approach. Coral reefs encircling the peninsula made a landing impossible, and they had to detour hundreds of leagues, then hack through dense jungle.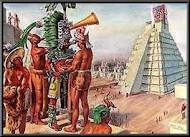 Today one rides to Tulum in air-conditioned comfort for an hour and a half from Cancun along an unerringly straight and level two-lane highway hacked out of the bush. Coba, which is closer, was a far more important and historic Mayan city with extensive trade connections. However, since much of it is overgrown with vegetation, it is still more accessible to monkeys and wild boars than to people.
They are still building temples to the sun in the Yucatan. Twenty-five years ago the place called Cancun was swamp and jungle. Now its strand of monumental luxury hotels rivals those of Maui, the French Riviera, or any beach in the Caribbean. The American Airlines flight from Toronto (which touches down for only an hour in Dallas) flies by this row of toylike architectural wonders as if doing a parade inspection.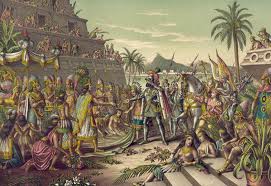 By car, one rides for 40 minutes and sees nothing but hotels, restaurants (including the ubiquitous Planet Hollywood) and shopping malls. Hilton, Hyatt Regency, Marriott, Westin and other top-end chains are all represented. Picking up on native themes, several deluxe properties are shaped like the squat pyramids that now lie in ruins in the jungles. Using an imported theme, an Arab consortium attempted to build a fantastic Ali-Baba type inn, with bulbous domes and eastern arches, but ran out of funds half-way through. The decaying shell is the region's most contemporary ruin.
Costing $17 million, Xcaret (pronounced Ish-car´-et) is a recently-constructed amusement park situated midway between Cancun and Tulum. Trucks and bulldozers are still labouring by the entrance to build a mini-volcano — an artificial addition as opposed to the genuine Mayan ruins that grace the well-landscaped park.
Although Disneyesque in conception and scope, Xcaret caters to the ecological ethos of the 1990s. This is the place to be if you care to float lazily down an underground river or swim with gentle and intelligent bottlenose dolphins. Xcaret's dolphin compound is better designed than others in Maui and Nassau. The cost of swimming with dolphins is $60 for an hour.
Chitzen-Itza, a 2-1/2-hour drive from Cancun, is a vast complex of well-preserved pyramids, temples, rows of columns, ossuaries and sacrificial platforms. Dating from the 7th century, it is one of the most spectacular and celebrated ruins of antiquity. "Canadians know all about the beaches of our country, and that's what we try to push," says Tony De Anda, head of the Mexico Government Tourist Office in Toronto. "But I also want Canadians to know the other face of my country. So much culture! You don't have to go to Europe to see this culture — it's right here in North America."
Like Canada, Mexico is geographically diverse, possessing idyllic beaches, colonial towns, populous high-altitude plateaus, volcanic mountains, placid farming regions, vast deserts and unexplored jungle. Its capital, Mexico City, has a population of 28 million — equal to all of Canada.
Secondary cities like Guadalahara, with a population of merely five million, offer colourful surprises like Tlaque-Paque, a delightful handicrafts district filled with fine galleries and artisans' shops. According to De Anda, most of the half-million Canadians who visit Mexico each year come for the sun, sand and sea. Cancun is their favoured destination, followed by Acapulco, Puerto Vallarta and Ixtapa. ♦
© 2003