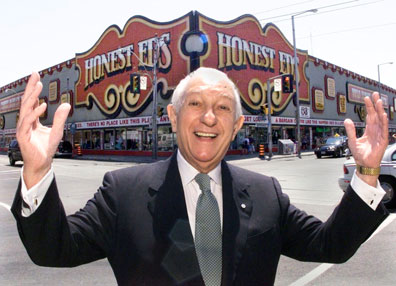 If this year is anything like previous years, the sun will be shining when "Honest" Ed Mirvish, Toronto's legendary salesman and theatre impresario, hosts a mammoth street party on Sunday July 22 in celebration of his 87th birthday, offering free refreshments and entertainment to as many as 60,000 people over a seven-hour period.
The party takes place in Mirvish Village, a downtown neighbourhood adjacent to Honest Ed's, his huge and garishly-lit bargain warehouse that sells everything from can openers to wedding gowns. The tradition has become so popular that the city has declared an Ed Mirvish Day. Toronto's other famous Jewish salesman, Mayor Mel Lastman, often attends the party.
"So far the sun has always shone on my birthday," says Mirvish. "But I tell the people, 'In case it should rain, you can always go into my store and shop.'"
Ed and his son David own two major Toronto theatres, the Royal Alex and the Princess of Wales, and recently took over operations of the historic Pantages (renamed the Canon).
He says he knew nothing about theatre when he purchased the Victorian-era Royal Alex in 1963, saving it from the wrecker's ball. "I didn't buy it for altruistic reasons. I was not a theatre-goer, I was a storekeeper, and to me it seemed like a bargain."
After Lady Diana, Princess of Wales, attended a performance at the Royal Alex, Mirvish attained Buckingham Palace's approval in 1993 to name the new theater he was building in her honour. Until several years ago he ran several popular restaurants beside his theatres. He is almost single-handedly credited with revitalizing the theatre district along Toronto's King Street West.
His experience with London's historic Old Vic theatre is equally renowned. In 1982 he purchased it sight unseen for £550,000, then poured four times that amount into desperately-needed renovations. He sold the theatre several years ago.
"I wouldn't say it was a successful business, but I was very privileged to be part of it," he says. "It was through the Old Vic that I received from Queen Elizabeth a CBE." The initials stand for Commander of the British Empire, but Mirvish translates them as "Creator of Bargains Everywhere."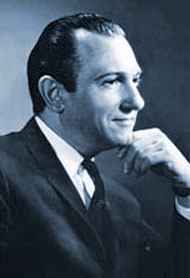 Perhaps his earliest brush with show business occurred in Colonial Beach, Va., eight days after his birth in 1914, when Rabbi Yoelson, Al Jolson's father, circumcised him. (His parents named him Yehuda; the nickname Edwin came later.)
His father was educated as a rabbi in Russia but sold Masonic encyclopedias in America's Bible belt. In 1923 the family came to Toronto and opened a grocery store in a Jewish neighbourhood; a rabbi ran a cheder upstairs. "We had only one bathroom that we had to share with about 50 students. So when I saw the house in Forest Hill with six bathrooms, I grabbed it. I figured I'd finally arrived."
When he and his bride Anne (a sculptor) were wed 60 years ago, they cashed in her insurance policy and opened a ladies' wear store on the site of the present Honest Ed's. The store now has 14 departments on three floors with an additional annex, and Mirvish owns many commercial properties on an adjoining street.
Ed and Anne Mirvish celebrated their 60th anniversary earlier this month with David, their only child, daughter-in-law Audrey and their three grandchildren, from whom Ed derives much grandfatherly "nachus". He also likes to boast about Anne's activities as an artist: she is currently sculpting the bronze head of Lincoln Alexander, the former lieutenant governor of Ontario.
Likewise, he takes great pride in supporting a rainbow of charities connected with the Jewish world, including Tel Aviv University, the Gesher Foundation, Hadassim Children and Youth Village, and the Jerusalem Museum. Locally, he belongs to three synagogues, Reform, Conservative and Orthodox, because he wants to "cover everything, just in case."
As in past years, congratulatory birthday greetings have arrived from such famous people as Teddy Kollek, Jerusalem's former mayor, and the Pope, who has sent a blessing to Mirvish for his humanitarian endeavours for the third consecutive year.
The secret of his success? "When something works, tell everybody, but when it doesn't work, don't tell anyone," he confides. "That way, you create an environment of success."
He once paid the public to think up slogans to insult him. The results, including "Honest Ed attracts squirrels — at his prices they think he's nuts" and "Honest Ed is for the birds — his prices are cheap, cheap, cheap", gave him excellent mileage as advertising slogans.
His office, through a door marked "Private" in the rug department of Honest Ed's, is filled with souvenirs, awards, scrapbooks and other mementoes of a career that has spanned more than seven decades. But he says he won't consider retiring: "If you don't work they don't pay you."
His philosophy of life? "I think the main thing is you have to keep breathing," he jokes. May Honest Ed Mirvish keep delivering bargains and smiles for many years to come. ♦
Originally published in the London Jewish Chronicle. © 2001
Note: Ed Mirvish died in 2007.