From InsideToronto Blog, December 2015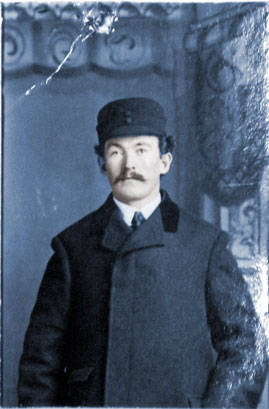 Although my client's late father had always been told he had been born in Montreal, we ultimately found his birth record in Toronto. Why the purposeful deception? Turns out my client's grandmother was trying to cover up the fact that her husband had been exposed as a bigamist in a high-profile court case here in 1913. I found several front-page newspaper stories about it, one of which carried a courtroom sketch of his second wife, dressed to the nines for her day in court.
Those were the circumstances that led me to examine a box of RCMP bigamy files from the period 1910 to 1918 at the Ontario Archives. Hoping to find details about my client's grandfather, I did a computer search under the keyword "bigamy." (Owing to privacy considerations, I was permitted access to only the records that were a century old or older.)
Sometimes a concerned citizen would set the ball in motion by writing an incriminating letter to the police or RCMP about a suspected bigamist. For example, when Capel B. St. George of Renfrew County heard that William Jannup had taken a second wife, he wrote a letter right away. "The first Mrs. Jannup is alive and holding the farm, and I recently heard that she was talking of action, but she is so glad to get rid of him, I do not think she will do anything," he explained.
Sometimes the police would act on a complaint from an aggrieved spouse. When Inspector John Miller went to arrest William Gilbert Nash of Brantford, he brought Nash's first wife, Clara Brown, with him on the train; Nash, who had abandoned his first wife in England, was waiting at the station. While he received a harsh sentence of seven years in the pen, most convicted bigamists typically received one to three years.
The files also contain copies of telegrams sent by fervent police detectives to local constables seeking suspects' arrests. There are even a few photographs of offenders, such as this portrait of Finley McInnis of Fort William, wanted for bigamy in 1914.
Such artifacts and photos would certainly add colour to a family history. But imagine that your own shadowy grandfather had taken one wife too many. If any of his children was still living, would you want to spill this sordid little family secret or keep it hushed up for another generation? ♦