Three-quarters of a century after his grandfather and great-uncle founded Careful Hand Laundry & Dry Cleaners, company president Brian Chelsky celebrated the company's 75th anniversary last month (2004) with a party for about 75 employees, suppliers, relatives and friends in its main location at 2700 Dufferin St. near Briar Hill.
"When you spend $150 and up on a shirt, you want it to be done right," said Chelsky, in explaining why customers gladly pay $4.25 per shirt for his company's premium cleaning and pressing service. "We do about 2,000 shirts a week. We also do jackets, pants, suits, formal wear, sweaters, towels, table linens — we get everything."
Careful's elegant logo has graced the Davenport-Avenue Rd. area for decades and presently hangs outside outlets at 195 Davenport Ave. and 808 York Mills Rd. at Leslie. An independent franchisee at 1844 Avenue Rd. also does business under the company name.
The front of its Dufferin St. headquarters has been turned into a shrine of corporate history. A montage of copies of early leases, deeds, insurance policies, articles and photographs has been papered onto the walls.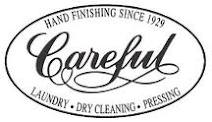 Artifacts on display include shirt bands and hangers from the 1950s and 1960s, as well as a coal-heated iron of the sort commonly used when the business was started.
"I'd prefer to show everybody these items rather than keep them in a box somewhere," Chelsky said.
Careful Hand Laundry has clearly impressed multitudes of satisfied customers since it was founded by Chelsky's grandfather and great-uncle, Alex and Jack Shindman, in Toronto in 1929.
Alex Shindman arrived in Toronto from the Kiev area about 1927. The following year, he and older brother Jack visited relatives in Chicago who persuaded them to enter the hand laundry business. After starting a successful company in Chicago and selling it at a profit, the brothers returned to Toronto and opened the first Careful Hand Laundry on Queen St.
Recognizing the need to be closer to their posh clientele, they moved to Rosedale and later to a location at 152 Avenue Rd., where they served the city's carriage trade for more than 50 years. Alex's soon-to-be son-in-law, Sidney Chelsky, joined the business in 1958 and, with wife Brenda, eventually acquired full ownership of it.
Brian Chelsky began working in the family firm as a boy. At 21, he spent six months on a kibbutz in Israel and was logically assigned laundry duty. "I was the only one who didn't mind working in the laundry," recalled the 42-year-old company president.
Careful has earned a spotless reputation through its impeccable and individual treatment of garments and its state-of-the-art machines, Chelsky said. "All our garments are hand finished, we have hand irons at each station," he said.
Shirts and other dry-cleaned items are often stuffed with tissue to help them maintain their form, he said; plastic bags used by the company are thicker and hangers more sturdy than those of the competition, he added. "We don't pin garments to hangers because it creates a hole. And we don't use staples for dry-cleaning tags, we use plastic bullets."
He proudly shows off an award the company has won from the Ontario Ministry of the Environment for being environmentally responsible.
At the party, Chelsky awarded gifts to employees, suppliers and other industry people in recognition of their loyalty. Each recipient was given a miniature replica of a Careful Hand Laundry delivery truck from the 1930s. "Everybody who got one of those little trucks was tickled pink," he said.
Toronto Life magazine visited the company's high-ceilinged headquarters earlier this year and was impressed enough to include the dry cleaner among the suppliers in its "Best of the City" issue in July. "If cleanliness is next to Godliness, then it only makes sense that Careful Hand Laundry and Dry Cleaning resembles a chapel," the magazine noted. ♦
© 2004