From the moment Lillian Hellman met Dashiell Hammett in a Manhattan nightclub in 1930 until his death in 1961, she was "not only his best friend but also his only friend," yet so thoroughly did she mythologize their relationship, and so widespread was her reputation for lying, that Gore Vidal once wickedly pondered: "Did anyone ever actually see them together?"
Even more than a decade after Hellman's death in 1984, myths, contradictions and paradoxes cloud our perceptions of this pre-eminent American literary duo: the hard-drinking Hammett, master of the hard-boiled style evidenced in such detective novels as The Maltese Falcon (1930), The Glass Key (1931) and The Thin Man (1934); Hellman, his devoted protege, who crafted celebrated plays like The Children's Hour (1934), The Little Foxes (1939), Watch On The Rhine (1941) and Toys In The Attic (1960).
Joan Mellen, New York-based author of the fascinating new dual biography Hellman and Hammett: The Legendary Passion of Lillian Hellman and Dashiell Hammett (HarperCollins, 1996) noted that Hellman had not written anything substantial before meeting Hammett, and that he stopped writing altogether shortly after they met.
Speaking at the recent Harbourfront International Author's Festival in Toronto, Mellen disputed the accusation made by some critics that Hellman drained what was left of Hammett's talent. Hammett, "in a singular act of generosity," gave Hellman the plot for The Children's Hour, her first big success, and patiently taught her his style of "bare-boned lucidity," Mellen observed.
In choosing a writing career and a life with Hammett, whom she never married, Hellman entered into a "Faustian bargain" that would deprive her of the children she wanted so dearly, Mellen said. In one of her biggest lies, Hellman "invented a child born to her via a Yugoslav lover. She greatly wanted children and felt she could not be complete without them. As John Hersey said at her funeral, she remained an unfinished woman."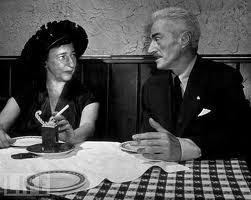 An Unfinished Woman, of course, is the title of one of Hellman's supposedly autobiographical works; the others are Pentimento and Scoundrel Time. Although each was a bestseller, each has been strongly criticized as containing more fancy than fact. For example, in the chapter "Julia" in Pentimento, which later became a movie starring Jane Fonda, Hellman told the story of how she carried money into Nazi Germany for a socialist-activist friend. "In truth, Lillian Hellman had never met the character based on Julia," Mellen said. "The story belonged to somebody else, Muriel Gardiner."
It is also apparently untrue that Hellman courageously withstood the bullying political committees of the Joseph McCarthy era. In her memoirs, Hellman described hocking her jewelry to pay the $10,000 bail after Hammett was jailed for his alleged Red associations. In truth, Mellen found that Hellman did not pay the bail, and was so afraid to visit Hammett in jail that she went to Europe instead. "Hammett was terribly hurt, but he later forgave her."
Hellman greatly embroidered the truth about herself but never told lies that caused serious harm or suffering to others, Mellen concluded. "Hellman never denied that she lied. Her view was that most people did it and it was a means of survival."
One of Hellman's greatest foes was not Joseph McCarthy but the American writer Mary McCarthy, who charged on a national TV talk show that "every word she writes is a lie, including 'and' and 'the.'" Hellman responded with a lawsuit that forced McCarthy to recant; the incident is still famous in New York literary circles. "Lillian was so angry she vowed to break Mary McCarthy, and almost did just that," Mellen said.
Richly researched and with an astonishing level of detail, Hellman and Hammett's 572 pages probes much deeper than any previous bio into the psyches of this hard-living literary couple who were far more faithful to their craft than to each other. Although Hellman's Jewishness was not central to her art, it nonetheless helped shape her literary and political outlook.
"Hammett's achievement lives on," Mellen said, "and Hellman is still remembered as a literary character and as an example of someone who lived a literary life to the fullest." ♦
© 1996