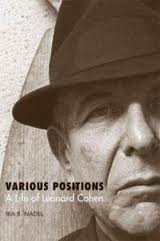 It seems so long ago that Leonard Cohen, the gravelly-voiced songwriter-poet from Westmount, first won international acclaim with compelling songs like Suzanne and So Long, Marianne, at once deeply romantic and mystical.
With ten books of poetry, two novels and a dozen albums to his credit, and three more tribute albums of his songs in record stores, the Cohen legend has not had a chance to tarnish: it still gleams. Forever the golden boy of Canadian poets, and the spiritual son or younger brother to Montreal poets such as Irving Layton, the 62-year-old Cohen remains one of the most expressive and enigmatic figures in Canadian letters, even as he remains a heart-throb to female fans around the world. (Note: Cohen is now in his 70s.)
Now a new biography, Various Positions: A Life of Leonard Cohen (Random House, 1996) tries to unite the reality with the myth, according to its author, Ira Nadel, a book critic for CBC radio in Vancouver.
"I was more interested in trying to understand: How does a Canadian from Westmount generate this mystique about himself as an artist?" Nadel explained in a recent interview in Toronto. "How does a Canadian folksinger develop an international following? Who IS this guy? Why do women get bleary-eyed when they meet him? That's what I wanted to know."
To find out, Nadel spent three years in research, conducted hundreds of interviews and traveled to Montreal, New York, Nashville and Hydra, the Greek island where Cohen lived and wrote for many years. He also visited Cohen at his present home in Los Angeles, where he met  — and won the approval of — his trusted zen master, Roshi. Cohen invited Nadel to L.A. after reading an article Nadel had written about him; they hit it off, and the biography ensued. Although Cohen provided full access to his unpublished papers, this isn't an "authorized" biography: he prefers the phrase "benignly tolerated."
"He's now 62, and he feels that it's appropriate to have an account — hopefully an accurate account — of his career. I wouldn't call it a summing up: it's too early for that. He's writing songs for a new album and completing a new book of poetry," says Nadel, who developed a friendship with his subject.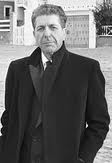 Simply put, Various Positions provides a vital context for understanding Cohen's ouevre by presenting his life story with an astonishingly rich level of detail. The grandson of an eminent Montreal rabbi, Cohen rubbed shoulders with Jack Kerouac, Allen Ginsberg and other beat poets in New York in the 1950s. A decade later he was hanging out with Bob Dylan, Phil Ochs, Joan Baez, Joni Mitchell, even Janis Joplin, whom he met one night in the elevator of a seedy Manhattan hotel, later immortalizing their encounter in the song "Chelsea Hotel."
A famous ladies' man, Cohen's relations with women are explored in depth, from his longtime lovers Suzanne and Marianne to less significant partners such as the woman who knocked at his hotel room one night wearing only aluminum foil. The book also explores Cohen's recurrent depressions, his experimentation with drugs, and his steadfast attachment to Judaism even as he delved into zen buddhism.
"Leonard sees no conflict in this," Nadel explains. "They do not cancel themselves out. That's what the title means: it's possible to take various positions in life. Leonard is a Jew first and foremost, that's very important. There's absolutely no conflict for him in being Jewish and being a follower of zen practices. Zen for Leonard is not a religion, it's a training in self-reform and self-discovery."
According to Nadel, Cohen's first two books (Let Us Compare Mythologies, 1956, and The Spice-Box of Earth, 1961) were intensely romantic, while the next two (Flowers for Hitler, 1964, and Parasites of Heaven, 1966) "represent a collision with history." With his next works — The Energy of Slaves (1972), Death of A Lady's Man (1978) and Book of Mercy (1984), Cohen "begins to look more inward, and increasingly becomes more spiritual. So you could think of Cohen's progression as the spiritual replacing the lyrical," Nadel offers.
Cohen's two novels were The Favourite Game (1963) and Beautiful Losers (1966); Nadel calls the latter "an experimental stream-of-conscience novel, very much in step with William Burrough's Naked Lunch and Thomas Pynchon's V."
However, while Various Positions contains many valuable critical insights, its author points out that it is a biography, not a critical study. "If this book achieves anything, it will provide a grasp of the life of Leonard Cohen. One hopes it will inspire people to listen to the songs and read the poems and books again." ♦
© 1996