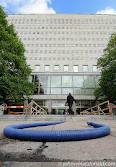 As Canadians, much of the documents behind our history is preserved at the National Archives of Canada (now Library and Archives Canada). As Jewish Canadians, we may also turn to this indispensable Ottawa-based institution to gain access to numerous collections of special relevance to our community.
WWI Papers: Did any of your ancestors or relatives serve in the Canadian Expeditionary Forces in WWI? Chances are you can view their attestation papers by visiting the Archives' web site (www.archives.ca/08/08_e.html) and using the ArchiviaNet on-line research tool. (Choose the Genealogy theme.)
To date, the Archives has digitized about one-third of the roughly half-million attestation papers in its collection. Easily accessible and downloadable, the digitized records contain useful family information. The rest of these sign-up papers and more in-depth personal war records are available by mail; photocopying charges apply.
Toronto Cemetery Records: Original record books and file cards kept by Benjamin's Park Memorial Chapel of Toronto, dating from 1930 to 1980, contain date of death, yarzheit, name of deceased, and burial location. Benjamin's Park will readily grant the necessary letter of permission to any bona fide researcher.
Similarly, microfilmed records from Toronto's Steeles-College Memorial Chapel extend from roughly 1949 to 1975 and include name, date and place of birth, death and burial, age, occupation, civil status and last residence, next of kin, names and birthplaces of parents. Written permission also required.
Website: http://www.collectionscanada.gc.ca/index-e.html
Russian Consular Records: Of great interest to genealogists, this microfilmed collection (also known as LI-RA-MA) contains nominal files on more than 10,000 immigrants, including many Jews, who came to Canada from the Russian Empire between 1898 and 1922. The well-known index edited by Sack and Wynne has been enhanced by the National Archives' own index. The microfilms may be accessed remotely by interlibrary loan. Caveat: Russian reading skills required.
Hebrew Free Loan Association: This Montreal-based philanthropic society helped some 80,000 borrowers between 1911 and 1935. Its minutes books contain details of membership, bequests, legacies and donations. (Permission required.)
Jewish Colonization Association: Founded by Baron Maurice de Hirsch in 1891, the JCA promoted the resettlement of oppressed European Jews in numerous colonies in Western Canada. The Archives holds an inventory of the eight reels of microfilmed records, which run from 1886 to 1919; open access. A related collection, the Jewish Family Services of the Baron de Hirsch Institute of Montreal, contains correspondence, reports, cemetery records, case files and more; segments have restricted access.
Numerous Family Collections: The Archives holds an impressive array of materials from many Canadian Jewish scholars, rabbis, politicians, business people, writers and other noteworthy individuals, as well as significant communal organizations.
Valuable materials, of interest to historians if not immediately to all genealogists, include an unpublished manuscript of Canadian war hero Ben Dunkelman, the family papers of 18th-century Quebec trader Aaron Hart, and material related to Bernard Wolf, a London, Ont. businessman who in 1948 mounted a successful court challenge of a restrictive covenant that disallowed the sale of a plot of land "to anyone of Jewish Hebrew, Semitic, black or coloured race or blood."
Useful Catalogue: Published by the National Archives in 1987, Archival Sources For the Study of Canadian Jewry by Lawrence Tapper remains an excellent catalogue of the Archives' pertinent holdings. Limited copies of this bilingual guide are available for free from the Archives.
Since the Archives may need up to 48 hours to make materials available, and longer if additional fonds are required, it's best to contact the Archives in advance of a visit. Visit the website or write to National Archives of Canada, 395 Wellington St., Ottawa, Ontario K1A 0N3. Genealogical inquiries, 613 996 7458. ♦
© 2001