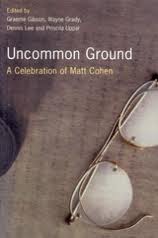 Uncommon Ground, a fresh collection of articles, essays, excerpts and interviews just published by Knopf Canada (2002), offers a wonderfully luminescent window onto the legacy of the multifaceted and elusive Canadian writer Matt Cohen, who died in December 1999.
The book is being offered as a "festschrift" or celebration of Cohen and his work. It features pieces from a diverse assortment of Cohen's literary associates and friends, including Margaret Atwood, George Bowering, John Irving, Martin Levin and Alice Munro. Its fascinating historical material includes seven interviews conducted over the course of his prolific, three-decades-long writing career.
Born in Kingston and raised in Ottawa, Cohen later lived in Toronto. He became famous for his "Salem" books, ultimately five in all, which occur in and around a fictitious village in eastern Ontario and are the foundation of his critical reputation, according to critics like Greg Hollingshead.
He left a sizeable ouevre of more than 20 books, mostly novels such as The Sweet Second Summer of Kitty Malone (1979), The Spanish Doctor (1984) and Elizabeth and After (1999); the latter title earned him a Governor General's Award just before he died. He also wrote numerous children's books under the cuddly pseudonym Teddy Jam. An autobiography, Typing: A Life in 26 Keys, appeared posthumously in 2000, as did an anthology of short stories, Getting Lucky.
While Cohen sometimes dabbled in Jewish themes and characters, he defied being pigeonholed as a Jewish writer. When his first significantly Jewish work (The Spanish Doctor) appeared, critics treated it as an aberration and pleaded with him to resume his usual Canadian literary output. It was, Cohen observed, as if being Jewish and being Canadian were mutually exclusive qualities. In that light, he is a pioneer of the current multicultural trend in Canadian fiction.
"Matt was to become one of the leaders of the movement to decolonize Canadian literature, to give it a voice of its own," writes translator Daniel Poliquin.
The Spanish Doctor came as a shock to many readers and critics, Cohen told an interviewer in 1990, "because of their sense that I betrayed my Canadianness by writing about being Jewish. It tells you something uncomfortable about people's conception of what it means to be a Canadian. Even after Nadine was published, people would say to me: 'Are you going to write about Canada again?' I would answer that most of Nadine takes place in Canada, and that her being Jewish doesn't mean she isn't Canadian. Then they would be offended, as if I'd made a hostile remark."
Atwood astutely suggests a connection between Cohen's Jewish background and "the crumbling WASP rurals of the Ottawa Valley" that Cohen focused on in the Salem series: "Nobody seemed to understand the affinity between Jews and crumbling rurals — the common threads, which were destroyed culture, demoralization, and rootless and wandering survivors."
Atwood also provides a significant insight by noting that Cohen was not simply a literary realist, since he dipped frequently into the realm of the fabulous in books like Last Seen (1996). "Tale-spinning improvisation and the invention of wild fantasies came to him easily; it was the 'realism' that was hard work," she writes.
Editor Anna Porter, who presents a charming sketch of her relationship with Cohen, observes that he was disappointed that his books, while critically successful, did not make him a comfortable living "nor did they change anyone's life." As Porter observes, "Matt remained his own harshest critic."
Each chapter of Uncommon Ground seems to illuminate another facet of the writer we thought we knew. Alice Munro rhapsodizes over Kitty Malone; Steven Hayward details Cohen's connection to a Toronto bookshop, highlighted in the 1993 novel The Bookseller; Janet Lunn tells us about the children's writer; Beatriz Hausner's provides a thorough, descriptive bibliography that deftly summarizes Cohen's multiple gifts to our national literature.
Another facet: Cohen was fascinated with the European-Jewish writer Joseph Roth, and intended to write a novel about him called The Three Loves of Joseph Roth. Uncommon Ground presents a seven-page segment from the unfinished manuscript.
Edited by Graeme Gibson, Wayne Grady, Dennis Lee and Priscila Uppal, Uncommon Ground is the Canlit establishment's loving tribute to one of its own — no matter how far out of the mainstream he perceived himself to be. The book is required reading for anyone who wants to get a handle on Cohen, whose reputation will likely grow in the years ahead. ♦
© 2002