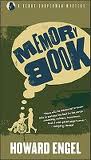 Howard Engel, creator of the popular Jewish literary detective Benny Cooperman, was perplexed to discover, one morning about four years ago, that the pages of his morning newspaper seemed filled with an unfamiliar foreign typescript, resembling Serbo-Croatian.
Actually, an overnight stroke had left him with alexia sine agraphia, a rare mental condition that had deprived him of the ability to read but had left his writing ability largely intact.
Although initially he couldn't tell one alphabet letter from another, a diligent course of therapy has restored his reading ability to a grade three level. Although he can't keep pace with movie subtitles and it takes him weeks to finish a novel, he can now read back his own manuscript pages, an essential part of the creative process.
In March Engel's long-term publisher, Penguin Books of Canada, released Memory Book, his twelfth Benny Cooperman mystery. The book appears at an auspicious moment precisely 25 years since his now-famous gumshoe debuted in The Suicide Murders.
"I seem to be hard-wired for writing," the 74-year-old Toronto resident remarked in a recent interview at Dooney's, the Annex-area coffeeshop where he is a regular. "And I can't stop myself from reading, even though it's very difficult. So I've had to transform my whole life."
Engel achieved another important career milestone in March when the Writer's Trust of Canada named him the recipient of the $20,000 Matt Cohen memorial award for lifetime achievement. As the citation noted, he is credited with creating Canada's first popular private eye in fiction who operates in an identifiably Canadian setting and has a solid international following.
The magnitude of the prize took the unsuspecting crime writer by surprise, he said. "They tell you about the award just to make sure you'll get there," he said. "But I assumed it was a minor award at the start of the evening, before the biggies. I was so surprised when they saved me for the last B it was the big award of the evening, both monetarily and in its placement on the program. I was really knocked out by the applause and by the standing ovation. It was really more than I bargained for."
In Memory Book, Engel's soft-boiled sleuth also gets more than he bargains for. Benny spends weeks in a coma, then awakens in a hospital room to discover he has acquired a rare mental condition — alexia sine agraphia — that has fogged his short-term memory and wiped out his ability to read, much as it did with Engel.
Shortly after the stroke, Engel contacted Oliver Sacks, the noted author-neurologist, and was invited to meet him in New York. Sacks became intrigued with the case and ultimately wrote a 10-page afterword to Memory Book in which he noted the "special personal dimension" that links Engel and Cooperman.
The novel "has a unique depth and authenticity, because Howard Engel has known and traversed all that he writes about," Sacks writes. "He has, as Bertrand Russell would say, 'knowledge by experience,' and no knowledge by description can ever match this."
Unlike his creator, however, Benny was knocked over the head and left in a dumpster, along with the corpse of a murder victim. Although he keeps forgetting things like what city he is in, the name of his favourite nurse and how to use a telephone, he turns to crime-solving from his hospital bed much the way other patients play chess or do crossword puzzles.
Engel, who said he wanted to write about a mental disability from the inside out, acknowledged that Benny has entered a slightly darker realm where mysteries loom larger and his sleuthing powers possibly reduced. In a sense, the whole world has become a veiled mystery for him. Just as vandals trash his office in Grantham, a parallel internal havoc causes his mental faculties to become scrambled and unreliable.
The book "is a bit of an experiment in dealing with a narrator who is not entirely dependable, who is apt to forget things or repeat things altogether," Engel said. "In that way, it's approaching modern fiction. One of the charms of the crime novel is the fact that you've got a solid narrator B a storyteller [who] tells the story with drive: he moves the story forward and you can lean on him; he's trustworthy. But in modern fiction the narrator is not always reliable."
It's possible Engel is migrating towards a more literary school of detective fiction typified by works like Peter Ackroyd's 1993 novel Hawksmoor, in which the protagonist responds to the persistent problem of evil by losing his mind. Likewise in modern French detective literature "where the crime is unsolved on the last page and the detective is dead," the author added with a nod of agreement.
Born into a Jewish family in St. Catharines, Ont. in 1931, Engel used his boyhood home as a model for the fictitional southern Ontario town of "Grantham" where Benny lives and works. A former CBC reporter, he wrote the first detective novel at the encouragement of his late first wife, the novelist Marian Engel.
"I wrote that first book [The Suicide Murders] very quickly and it was short for a book. But I showed it to a publisher, John Pearce, and he decided to take it. And in the editing process I did a major rewrite of the whole book." The book was one of two Benny Cooperman novels that were later made into movies, both starring actor Saul Rubinek; Engel wrote the script.
Benny's popularity may rest in part on his unassuming, somewhat comic status as an antithetical, happenstance hero who goes against the grain, orders chopped-egg sandwiches in restaurants, and has a pair of unsophisticated Jewish parents who get mixed up about the differences between a solar and lunar eclipse.
"Benny was everything that didn't exist in the detective realm when I started," Engel said. "He was Canadian, not American; he was Jewish, not Christian; he wasn't a tough guy; he didn't carry arms. He didn't get all the good cases automatically — he would get a case recommended by someone's cleaning woman — and he was sick at the sight of blood: all of the things that the conventional detectives didn't do."
The author does not disapprove of the suggestion that Benny is, well, a bit of a schlemiel. "Yes, he does appear to be a schlemiel, and his manner helps him become a better detective because people open up to him. They tell him things they wouldn't tell a regular policeman and they wouldn't tell Sam Spade. He's not threatening in the least."
Despite Benny's greatly reduced sphere of operations in Memory Book, which is mostly set in a hospital ward, he's about to tread far beyond his usual stomping grounds of southern Ontario. Engel's now drafting a new Benny Cooperman adventure set in Miranam, a fictional country in Southeast Asia.
A large part of the manuscript was written before last December's tsunami, so Engel went back and inserted the catastrophic ocean wave into the story. If anything, the tsunami only adds to the imagery of disorder and chaos that seems to have gained prominence in his post-stroke work.
In Memory Book, a dreamlike train wreck is a central motif, while according to Engel an equally dramatic image of upheaval is at the center of his latest novel-in-progress. "I had to think what might be left two years after the tsunami hit, so I put a large freighter in the middle of the main street, which is being slowly whittled down by acetelyne torches," he said.
He is also writing a memoir dealing with his stroke and its aftermath. He began it, he explained, by comparing how alexia sine agraphia affected Benny Cooperman in fiction versus how it affected him in real life.  ♦
© 2005