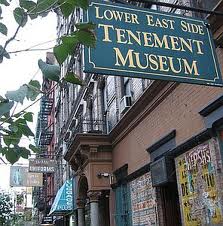 An Orthodox Jewish garment presser from Lithuania, Abraham Rogarshevsky was only 45 years old when he succumbed to tuberculosis in July 1918. He died at home, surrounded by his family in their tiny three-room apartment on New York's Lower East Side.
Although there was nothing particularly remarkable or historic about Mr. Rogarshevsky — no more than about almost anyone chosen at random — the apartment where he drew his last breath has been turned into a permanent shrine to his memory.
The Rogarshevskys lived at 97 Orchard Street, a rare and perhaps unique example of a 19th-century tenement building known to have survived into modern times. Ten years ago the six-storey building was transformed into the Lower East Side Tenement Museum. Recently (1999) the Rogarshevsky apartment was transformed into an exhibit, "Sitting Shiva with the Rogarshevskys," which will be seen by tens of thousands of visitors each year.
It was in 1935 that the landlord closed off the five upper floors of 97 Orchard Street rather than comply with a city bylaw requiring costly improvements to the plumbing and ventilation. Until 1981 various businesses operated legally on the ground level of the building while the many small apartments upstairs languished in the dust and darkness.
The building was rediscovered in the mid-1980s by two New York City historians, Ruth Abram and Anita Jacobson. "We had been looking for months for a place to have a tenement museum," Abram recalls. "We had given up because the 1929 law meant that landlords all over the city had torn down, renovated or gutted their buildings."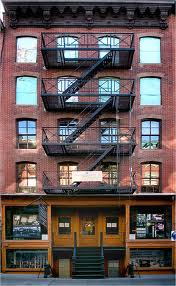 Until they found 97 Orchard Street, Abram had been all but convinced that such once-common tenements, which she calls "urban log cabins," had disappeared entirely from the metropolitan landscape. Chartered in 1988, the Lower East Side Tenement Museum offers local walking tours, exhibits, dramas and slide shows as Abram, its founding director, seeks funds to restore its upper floors.
Flashlight in hand, she shines a light up the dark and creaky staircase. Upstairs, the light reveals a maze of small rooms with multiple layers of peeling wallpaper, mantleshelves coated in dust, and cobwebs hanging from the ceilings.
Unquestionably, the atmosphere is spooky and surreal. Abandoned in a corner of one room is a small tin truck, a child's wind-up toy from the Victorian era. On a doorjamb of another room, a former resident, apparently a tailor, has pencilled a sartorial enumeration of shirts, vests, jackets, trousers, blouses, dresses and skirts. At least three apartments were used as sweatshops.
In suite after grimy suite, the flashlight pierces the gloom of more than half a century, revealing subtle, almost antebellum flourishes in the decor. The building was erected in 1863, the year Lincoln was assassinated.
"This is a pre-Old Law tenement, and it's certainly rare. It was built before the Old Law of 1879, before there were any laws on the books regarding building construction. It hasn't been touched since the 1901 law requiring toilets, indoor water, airshafts and ventilating windows."
Roughly 7,000 people from 20 nations lived at 97 Orchard Street. Although Jews comprised the largest groups of residents, many non-Jewish families of Irish, Romanian, German, African and other ethnic backgrounds lived in the tenement.
So far, four apartments have been restored as authentic period exhibits. They belonged to the Confinos, a Sephardic Jewish family from Turkey; the Gumpertzes, a family of German Jews; the Baldizzis, who were Italian Catholics; and the Rogarshevskys. One apartment has been purposely left untouched to highlight the extreme dilapidation into which the building had fallen.
On the ground floor, a detailed model of the building shows slice-of-life pastiches of numerous emigrant families at various moments of history. Much information about former residents came from genealogists, who used census records, ship's passenger lists and naturalization documents to piece together biographical details about the resident families. Visitors are sometimes astonished to discover that their own ancestors are mentioned in a list of known former tenants.
About 1999 President Clinton signed a congressional bill designating the museum as a National Historic Area. It is the only tenement to be preserved in the United States. ♦
© 1999
Note: The Museum will be commemorating its 24th anniversary in 2012. To date, five apartments of former residents have been recreated — the four mentioned above, plus the home of an Irish Immigrant family named the Moores. The "Sitting Shiva with the Rogarshevskys" tour has been discontinued. The museum has opened a new Visitor and Education Center at the corner of Orchard and Delancey. Its website is www.tenement.org