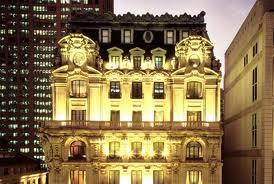 Fresh from a $100 million renovation, New York's prestigious St. Regis Hotel, situated on 55th St. at Fifth Avenue, is the epitome of luxury hotels in Manhattan.
The St. Regis is definitely not for the budget-minded. The lowest category of room ("superior") commands $350 per night: a "grand luxe" room costs $450, a "grand suite" $1,250, the presidential suite, $3,000. According to Conde Nast Traveller Magazine, the St. Regis is "New York's most expensive hotel."
The flagship of the ITT Sheraton hotel chain, the St. Regis has received glowing reviews from prestigious publications like the New York Times and Architectural Digest. Regular clients include international businessmen, diplomats, government officials and heads of state.
What do they receive for their money? Besides a well-appointed room or suite with classic furnishings at a posh address, each guest receives the personal attentions of a maitre d'etage — a butler in white tie and tails who will unpack luggage, bring tea or an extra pillow, secure theatre tickets, and handle all the details of the stay.
The mineral water on top of the TV console is free but the drinks in the mini-bar are not. A crystal dish on a coffee table is kept well-stocked with chocolates, and a slice of luscious layer cake, garnished with raspberries, awaits guests after an evening out.
American tycoon Colonel John Jacob Astor opened the St. Regis in 1904 as a place where his friends visiting from Europe could feel comfortable. Filled with European-style frescoes, crystal chandeliers, marble fireplaces and lavish antiques, the elegant Beaux Arts monument hearkens back to an age of grand hotels and unrestrained opulence. It was declared a city monument in 1988.
Although retaining its fin-de-siecle Old World charm, the St. Regis has acquired certain discreet modern elements that Astor (who died in the Titanic) would not have recognized. For example, each room has been outfitted with a sleek computer-phone console that reflects the very latest in hotel-industry technology. By pressing an illuminated box on the computer screen, guests may raise the room temperature by a degree, control the TV or radio, place a phone call to Australia, dim the lights or summon the butler.
Although the hotel is beyond the budget of many travellers, afternoon tea in its elegant Astor Court ($18) is not. Dinner for two in the Lespinasse restaurant off the lobby may run $120.
The St. Regis Hotel, Two East 55th St. at Fifth Avenue, New York 10022. ♦
© 2000
Strolling New York's "Luxury Row"
More first-class hotels are crowded around Central Park South than most countries of the United Nations can boast. Only the top echelon of the travelling public can afford such luxury, but their often spectacular lobbies, restaurants and tea rooms are worth a visit.
Towering over Central Park at 61st St., Hotel Pierre is one of the top luxury hotels in Manhattan. Looking resplendent after a recent restoration, it is a private condo residential building with 206 rooms and suites (about one-quarter of its space) available to hotel guests. The property is managed by the Four Seasons hotel chain headed by savvy Toronto-based hotelier Isadore Sharp.
"Mr. Sharp comes out and literally inspects each room as it's being done over," says hotel catering manager, Herbert Rose. "He'll change a table or he'll change a curtain. Nothing is done to formula." Sharp's hands-on approach may be the reason for the Pierre's sterling reputation — and the Four Seasons good name internationally.
Other luxury properties in the neighborhood that have been restored recently include the Essex House (run by Marriott) and the Plaza, the Trump-owned institution at 5th and 59th. Another hotel on luxury row is the Ritz-Carlton, a comfortable, clubby hotel with rooms that start about $230.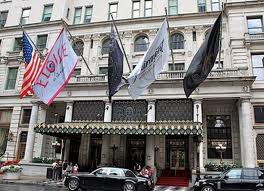 After closing for three years for a stunning overhaul, the St. Regis Hotel at 5th and 55th reopened last year to rave reviews from the New York Times, Architectural Digest and other publications. The flagship of the Sheraton chain, the St. Regis was built almost 90 years ago by American tycoon John Jacob Astor, who wanted his visiting European friends to feel at home in these Old World-style palatial digs.
Astor, who died in the Titanic, created what is now the most genuine Grand Hotel in New York City. It is also the priciest. The least expensive room (called "Superior") goes for $350 a night.
What does one get for such money? Besides a classic room at a posh address, guests receive the personal attention of a "maitre d'etage" — a butler in white tie and tails who unpacks suitcases, makes tea, arranges theatre tickets and handles other details of the stay.
Manhattan boasts dozens of posh and memorable establishments. Many aspire to be as elegant as the Pierre, as fancy as the St. Regis, as cosy as the Ritz-Carlton. Some even succeed.
Situated a few blocks from the World Trade Centre, the newish Millenium Hotel may still be receiving insurance agents tallying damage from last year's WTC bombing.
In mid-town, the modish, colourful Hotel Macklowe is a breath of fresh air from a design standpoint; it's a great place to be from a theatre standpoint as well.
The Grand Hyatt, above Grand Central Station, has a memorable lobby and a ballroom big enough to contain the Ringling Brothers gala parties once held there.
The round table where such famous luminaries as Dorothy Parker, Harpo Marx, Robert Benchley and Alexander Wolcott once held court in the 1920s, still graces Manhattan's Algonquin Hotel on E. 44th St.
But what of the Mark, the Drake, the Hilton, the Inter-Continental, the Helmsleys and so many others? In a megalopolis like New York, a simple choice can be simply overwhelming. ♦
© 2000