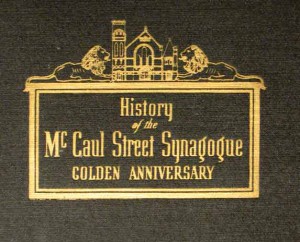 THIS Golden Anniversary book was published in 1938 to mark the first 50 years of the Beth Hamidrash Hagadol Chevra Tehillim of Toronto, which was founded in 1887 and moved into the  McCaul Street Synagogue about 1905. The Congregation published its Golden Jubilee 50th anniversary book in 1938. In the early 1950s it merged with the Goel Tzedec Congregation on University Avenue to become the present Beth Tzedec Congregation. 
This is the third section, Section C. 
Click on any page to enlarge it; use your browser's back button to return to this page. 
McCaul Synagogue Golden Anniversary (1938)  – Section A 
McCaul Synagogue Golden Anniversary (1938)  – Section B 
McCaul Synagogue Golden Anniversary (1938)  – Section C (below)
McCaul Synagogue Golden Anniversary (1938)  — Section D
* * *
McCaul Synagogue Golden Anniversary (1938)  – Section A 
McCaul Synagogue Golden Anniversary (1938)  – Section B 
McCaul Synagogue Golden Anniversary (1938)  – Section C (above)