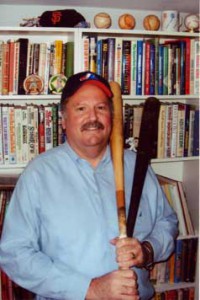 Give Peter Seidman a book about baseball that he doesn't already have and you're likely to score a bases-loaded home run with the Montreal-born collector of baseball paraphernalia.
But chances are you'll strike out in the attempt, because the 57-year-old teacher and administrator for the Toronto board of education has already amassed more than 4,000 books and other collectibles on his favourite subject.
Seidman's baseball library fills a room in the basement of his home in the Glencairn-Bathurst neighbourhood of Toronto. The floor and shelves also hold a cornucopia of various knick-knacks, souvenirs and ephemera on baseball, from beer cups to round playing cards, team wristwatches to wall clocks.
The walls are lined with books from floor to ceiling. A row of toy baseball players stands on a shelf and a dozen pennants decorate the ceiling. Even the mezuzah on the door is adorned with baseballs. (The collection also includes a Chanukah menorah featuring players on a baseball diamond.)
"We moved from our last house in Thornhill nine years ago — I just filled it up so quickly," he says. "I like to tell people that's why we moved."
A board member and former gabbai at Toronto's Shaarei Shomayim Synagogue, Seidman often goes on "baseball trips" in the United States, scouting for new property. As with many collectors, the thrill is apparently as much in the chase as in the acquisition.
He pulls some books from a shelf — including Safe! by Harold Sherman, all part of the "Home Run Series" for boys — and begins rhapsodizing. The books are rare and date from the '20s. He found them in a used bookstore in Madison, Wisconsin, and amazingly, the proprietor hardly knew they were there; he cannot hide his excitement as he recounts the discovery.
"I asked, 'Got any stuff on baseball?' and he said, 'No, not really.' So I asked, 'Any books for juveniles?' and he said, 'Yes, I do, they're over there.' And there they were. They're old books and signed by the author. And he wanted $5 a piece for them."
Baseball Joe Around the World is one in a series by Lester Chadwick, a prolific writer of nearly a century ago. According to Seidman, many of these old-fashioned, illustrated popular volumes were meant to provide role models for urban kids who might otherwise have fallen into street gangs. "A lot of it is a 'Horatio Alger' type of thing, with a lot of moral teachings," he said. "In these stories there's no swearing or smoking and the good always wins out over the bad."
His library runs through multiple genres in both fiction and non-fiction. Mystery writers, for example, include Troy Soos, whose oeuvre encompasses such appropriately-named novels as Hunting a Detroit Tiger, The Cincinnati Red Stalkings and Murder at Wrigley Field. "I have them all," says Seidman, while professing to be no fan of other sorts of mysteries.
As expected, his collection also includes the most popular literary works on baseball, such as The Boys of Summer by Roger Kahn, The Natural by Bernard Malamud, and Field of Dreams by W. P. Kinsella. Another is Hoopla by Harry Stein, which is "very well respected in baseball."
He also raves over False Spring by Pat Jordan, Small Town Heroes by Hank Davis, and October 1964 by David Halberstam. His personal favourite is Bang the Drum Slowly by Mark Harris. "It's a wonderful book, about a guy who's a third-string catcher. Robert DeNiro played him in the movie."
Why are so many baseball writers Jewish? By way of explanation, Seidman suggests that many American (and Canadian) Jews, from the immigrant generation onwards, have cultivated an affinity for baseball as a wholesome outdoor physical alternative to the cerebral indoor world of the yeshiva.
Curiously, Seidman hasn't devoted any particular energy to chronicling the careers of Jewish ball players. "A lot of those guys were not such great ball players," he explains. "They were in the minor leagues and they never made their Jewishness an issue, so why should I?"
A member of the Society for American Baseball Research, he receives its journal six times a year and often attends its international conferences as well as local meetings of its Hanlan's Point Chapter when they don't coincide with Shabbat.
"I like dollar stores. I look for baseball stuff. They always have something." He holds up a package of paper napkins with purple baseballs printed on them. Then he unrolls a poster showing the evolution of the ballpark, featuring dozens of examples, including the historic Elysian Fields in Hoboken, N.J., and Montreal's Olympic Stadium, where his beloved Expos played.
More than an hour has gone by and he is still showing off baseball artifacts: a plastic viewmaster with a slidewheel of ball players; cardboard placards from sports bars and newspaper boxes; vintage programs from the '50s; a box of Wheaties breakfast cereal; even a souvenir baseball made of popcorn. Only the proverbial peanuts and crackerjacks are missing.
On a desk an eight-inch pile of index cards attests to the fact that he has not updated his personal collection catalog in many months. Even so, he says he can hardly wait for his planned retirement a few years down the road, so that, God willing, he can devote even more time to his collecting passion, evidence of which has already spilled over to other areas of the house.
He produces a pair of nailclippers shaped, however improbably, as a baseball. "All of my friends are always giving me things related to baseball," he says. "It's a great out for everybody. They don't have to think 'What shall we get Peter for his birthday?' They already know." ♦
© 2007