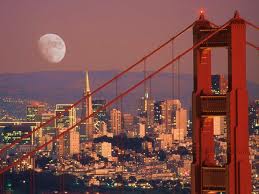 The rumbling is sudden and loud and the floor vibrates intensely. Yet patrons in this darkened theatre on Pier 39 in the Fisherman's Wharf district remain calm.
And why not? They have paid $7 to attend the San Francisco Experience, a 28-minute multi-media show that promises that "you will feel the earth shake." Utilizing a huge screen, numerous props, simulated fog and multiple film and slide projectors, the show presents a dynamic mosaic of images of historically important events like the 1849 gold rush, the 1906 earthquake, the hippie-era Summer of Love and the 1989 earthquake from which the city is still rebuilding.
A uniquely colourful history only partly explains why the Conde Nast Traveller Magazine recently named San Francisco the world's favourite tourist destination. Set on hills surrounding a beautiful bay along a majestic coastline, San Francisco's architectural wealth, famous bridges and cable cars, diverse neighbourhoods, liberal attitudes and proximity to redwoods and vineyards all help to charm some seven million visitors who spend an estimated $4 billion annually.
"There's a lot of things that go on here that you're not going to see in Saskatchewan or Kansas," says Charles Ripp, proprietor of the King George, a small boutique hotel in the Union Square  area, built 1914. "The city's history is on the wild and woolly side. It was a port of entry for the gold rush and from the very earliest times it was a wide open town. A tradition of tolerance developed on account of the fact that there was quite a bit to tolerate."
In contrast to highly visible Asian, Italian, Hispanic, Black, gay, homeless and other communities, the Bay area's 230,000-strong Jewish population — seventh largest in the United States — has a relatively low profile. "The Jewish community here is more assimilated than most east coast communities," says Don Futterman, spokesperson of the regional Jewish Federation. "You don't feel the presence because there's not a geographic centre to the community. There isn't really a Jewish neighbourhood. There are pockets of Jews throughout the region."
Jews have been here since the city's founding, says Futterman. Prominent families include the Levis of blue-jeans fame, the De Youngs who founded the San Francisco Chronicle, and the Swigs, who own the posh Fairmont Hotel on Nob Hill where President Clinton stays. Another well-known member of the community is Rabbi Shlomo Carlebach, who founded the House of Love and Prayer, a Jewish response to the hippie era that has been superceded by the Aquarian minyan in the East Bay.
The Federation has a "more progressive agenda" than its eastern counterparts, according to Futterman. The community has twinned with the Israeli city Kiryat Shmona and has funded numerous programs that help both Israeli Arabs and Jews. Two weeks ago, about $2.1 million was raised during a Super Sunday fund-raising drive.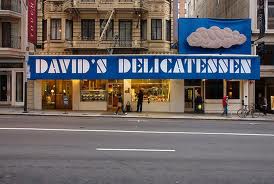 Perhaps the most highly visible Jewish institution downtown is David's, a classic delicatessen with adjoining 50-room hotel near Union Square. It was founded 42 years ago by David Apfelbaum, a Lodz-born Holocaust survivor who promotes Holocaust education in the Bay area. Walking in at dinnertime for a meal, this CJN reporter was fortunate enough to find David seated at the counter with Jerusalem-born actor Nehemiah Persoff, whose multiple television and screen roles made him instantly familiar. David introduced Persoff and invited me to join them.
In good spirits despite a recent hospitalization for gallstones, Apfelbaum had received more than 600 cards and 160 phone calls from Israel during his illness, he told me. One day out of the hospital, he was already busying himself with composing a new menu. "Give me your address and I'll send you a copy," he said. "You'll see how funny a menu can be." Then this king of the wisecracking Jewish menu, who boasts that he was the first to market bagel chips, asked if I was hungry. "What would you like? Kreplach, knishes, kishke, kugel? We have everything that starts with a K. Maybe you'd like some cabbage borscht as your mother tried to make but couldn't? Goulash, gefilte fish, stuffed cabbage? Everything is made in our kitchen. Nothing from cans."
"The matzoh-ball soup I recommend," said Persoff, whom I remembered seeing in Death of A Salesman at Stratford. (Among his innumerable other roles, he also played Binstock in Billy Wilder's immortal Some Like It Hot.)
"Do you think he'd like some cheese blintzes?" David asked Persoff.
"I think so," came Persoff's studious reply. "He looks to me that he likes everything."
As the waitress brought a plate with two nicely-browned cheese blintzes smothered in sour cream and jam, David went in search of his new menu to show off, and Persoff — who has acted in more than 40 films and 400 television shows — told me he has recently began a new career as a painter, and expects to make his painterly debut soon at a major San Francisco gallery, thanks to a few strings pulled by David. "I've worked in Toronto about 25 times all together," he said. "Toronto's a great city. I love San Francisco but Toronto has a very similar appeal. It's not as crazy as San Francisco but there's a freedom of spirit in Toronto that's very nice. It's not as uptight as either New York or Los Angeles."
David, returning, asked how I liked the blintzes, but I couldn't answer because my mouth was full. "It's like the poet Bialik used to say about Yiddish: 'Hebrew you speak, but Yiddish speaks itself,'" he said. "I say the same thing about our blintzes. Other blintzes you eat but these blintzes eat themselves."
"They eat themselves," I complained, "but I get the calories." That was when David assured me that all the calories had been extracted by a special process.
David's Classic Delicatessen and Haimische Foods Restaurant, 474 Geary Street at Taylor, San Francisco. (415) 771-1600. Dinner for two, $15-$20. David's Hotel, $89 per room, includes deluxe breakfast. ♦
© 1997