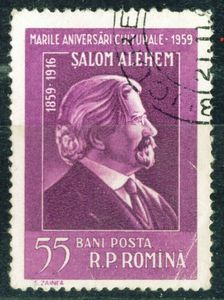 It was just over a century ago, in 1908, that a young Jewish lad in Warsaw, Poland, had a brief personal encounter with Sholom Aleichem that he would remember for the rest of his life. Melech Grafstein, then a 15-year-old Bundist and Yiddish theatre devotee, had earlier seen him reading on stage and also davening in the local Chevra Shas Synagogue.
But it was another thing entirely when Sholom Aleichem came into the wine shop where Grafstein worked, and the young man excitedly whispered into his boss's ear the name of their important customer. As the proprietor sought out the rare wine that Aleichem had requested, Grafstein made bold to exchange a few words with him on the subject of literature. Paying for the wine, Aleichem asked that two more bottles be delivered to his hotel, and it was Grafstein who soon arrived at the Hotel Victoria, bottles in hand, hoping for another memorable encounter.
"When the hotel porter wanted to relieve me of my parcel, I refused to part with it, insisting on personal delivery," he would later write in a delightful reminiscence. "Sholom Aleichem was not in his room, but his wife received me very graciously. I refused the tip she offered me, saying that it was an honor and a pleasure to serve such a noble madam and the wife of such a great author. She answered this compliment with a charming smile. Although only fifteen, I played the role of a cavalier, bowing from the waist and kissing her hand."
A noteworthy postscript to this story occurred six years later, in 1914, when Sholom Aleichem visited Toronto and spoke at Massey Hall. Grafstein, who by then had joined some of his well-known family members here, attempted to greet him backstage and "found him resting in the dressing-room, worn out from his appearance before his enthusiastic audience. His wife was fluttering over him, holding a glass of warm milk in one hand and a white towel in the other, which she used to wipe the sweat from his forehead. I saw that both had aged greatly and I did not have the heart to intrude. Not long after this the immortal Jewish humorist left this world forever."
Like a good wine, Grafstein's adoration of Sholom Aleichem matured over the next four decades, a period in which he settled with his wife Rose in London, Ont., raised a large brood of children, and became a successful textiles merchant. Always involved in a variety of Zionist and Yiddish cultural activities, Grafstein in the mid-1940s founded Farlag Melech Grafstein, an eponymous Jewish publishing house that produced a high-quality magazine, the Jewish Observer, as well as a superlative hagiographic tribute to the "Mark Twain of the Yiddish world" with a folio-sized and dazzlingly illustrated book titled Sholom Aleichem Panorama.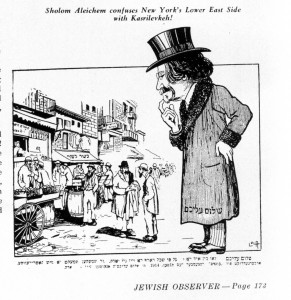 Appearing just over 60 years ago in 1948, the 415-page volume was clearly a labour of love on the part of its publisher, who devoted two years of life and spared no expense in its assembly. The table of contents extended over four pages and included essays and diverse reminiscences, translated stories and dramatic works, and an assortment of letters by and about its famous subject. The book even featured beautifully illustrated end-papers and a fancy ribbon bookmark.
The contributors included such well-known figures as Itzik Manger, S. Niger, Maurice Samuel, David Rome, A. M. Klein and Sholom Aleichem's daughter, Lala Kaufman, as well as Melech Grafstein himself. Dr. Isadore Goldstick, Grafstein's friend and colleague in London, Ont. and a well-known scholar and Jewish leader, provided many of the translations — so expertly that Schocken later anthologized them under separate cover. Illustrations, including dozens of likenesses of the pioneering Yiddish writer, came from Arthur Szyk, Lionel S. Reiss, Saul Raskin and other top Jewish artists, including several that had been commissioned exclusively for this volume.
The book had a limited print run and used copies today are rare. Grafstein also produced a less lavish but no less glowing book on his alternate literary idol, Yiddish writer Y. L. Peretz, a volume that today is also exceedingly rare.
"London, not our great imperial city, but a small town in Ontario, Canada, has produced and sent out a Sholom Aleichem book that is really magnificent," noted the Jewish Chronicle of London England soon after the Panorama appeared. The reviewer added, however, that the volume was a bit too "over-rich" and "ostentatious" for his taste. But its high production values only reflected Grafstein's unbridled adoration of Sholom Aleichem and his sense, shared by many ardent Yiddishists, that no pedestal could be high enough for this patriarchal literary figure.
Besides its many fine attributes, the Sholom Aleichem Panorama accomplished two notable firsts. First, it brought renewed attention to Sholom Aleichem two decades before the Broadway musical Fiddler On The Roof gilded the writer's reputation anew. Second, it contained an imperative early "In Memorium" page to the 6,000,000 who had only recently perished, urging readers to "remember what the Nazi-Amalek did to your people."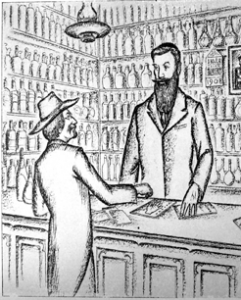 It must have been partly in response to the fresh European tragedy that Grafstein sought to remember the vibrant cultural life of his youth and give it a new, resplendent existence in a book — where it continues to shine even today. You will be well rewarded to request a copy of the Sholom Aleichem Panorama on your next visit to a major university or public library. ♦
© 2009