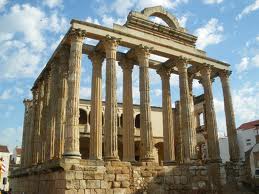 Merida, a city of 41,000 inhabitants in the Spanish province of Estremadura, boasts the most spectacular Roman ruins in Spain and an outstanding museum in which many impressive ancient treasures are housed.
One's introduction to the National Museum of Roman Art in Merida is the town itself. Merida was founded in 25 BC and named Emerita Augusta in honor of the Emperor and the many retired soldiers discharged from the Roman legions. ("Emeritus" means "retired.") The Empire, known for its brute strength and indomitable will, showed plenty of gratitude to its military veterans who were so instrumental in making it what it was. At the height of the Roman era, old soldiers didn't die, they retired to sunny Merida, capital of the Roman province of Lusitania in Old Hispania (Spain).
A planned community, Merida took shape with all the dignity and splendor that are still evident in its ruins. It had paved roads, a sewage system with leaden pipes, huge temples and public areas decorated with beautiful sculptures. It also had a vast 64-arch bridge over a river along the road between Seville and Salamanca; the bridge is still in use. Before long, Merida was the largest Roman settlement on the Iberian peninsula. In other words, it was Spain's biggest city.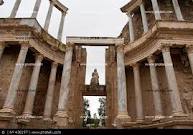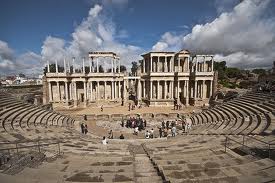 There was plenty of entertainment in this glorified retirement community. An amphitheatre, built for gladiatorial matches, held about 15,000 while an adjacent coliseum-like theatre held 6,000 for more civilized dramatic fare; the nobility sat in the larger seats below while the slaves sat in the upper bleachers. Both structures have been restored and are the setting for open-air arts festivals and performances each summer. There was also a Roman circus near the city's outskirts.
Much of the old town lies buried beneath the modern city, but there are many visible relics including a monumental Temple of Diana and a massive triumphal arch. So numerous were the free-standing pillars left over from Roman days that several centuries ago, a few Renaissance-era architects cleverly incorporated them into the fronts of mansions. Mosaic floors are so common that an outdoor antiquities garden features several floors, unprotected from the elements; visitors must walk on them to cross the site. Major statues of temple gods and goddesses were unearthed as recently as last year.
Located next to the ancient amphitheatre and theatre, the National Museum of Roman Art is regarded as perhaps the finest achievement of Rafael Moneo, one of Europe's most notable architects. The museum occupies a site that is overflowing with archaeological relics. Its basement is a crypt revealing the remains of homes, a necropolis, a road and an aqueduct from the Roman era.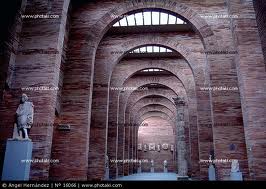 One enters a grand hall framed by a receding row of colossal Roman arches fashioned in sand-colored brick and topped by skylights. But the best surprise is yet to come. As one walks through this magnificent sunlight-filled space, one attains unobstructed cross-sectional views, right and left, of every gallery and display area on three levels. This wonderful open museum is an ideal setting in which to view this stunning collection totalling some 32,000 relics in all.
The walls are adorned with huge mosaic floors bearing exquisite decorations and scenes of mythic heroes, boar-hunts and charioteers: each once adorned the floor of a local villa. A noble bust, life-sized statue or decorative pillar fills every alcove. Inscribed tablets tell of the circus, the exploits of the war dead, the glory of the emperors. Display cases show off Roman glass, coins, combs, dice, pottery, surgical instruments.
Moneo interweaves ancient and modern design features in such a way as to continually surprise and delight. Opened in 1986, The National Museum of Roman Art remains a shining paragon of museum design.
If you plan on staying overnight in Merida, check out the Parador Via de la Plata. Once a Roman forum and later a mosque, convent and asylum, it is now part of Spain's national chain of parador hotels.
The Spanish province of Estremadura is located southwest of Madrid, along the Portuguese border, and is best known for having produced many famous conquistadors, whose family mansions still adorn many town squares. ♦
Bill Gladstone visited Spain as the guest of the Tourist Board of Spain and Iberia Airlines.
© 2002