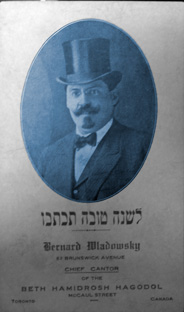 Not only is Minnie Cohen Toronto's first Jewish woman doctor, but she was also known within the city's Jewish community as "Chazzan Bernard Wladowsky's daughter" because she was the daughter of the well-known cantor.
As reported in The Canadian Jewish News of March 2, 1962, Dr. Cohen specialized in paediatrics and also in an specialty handed down to her from her father: music. She was an accomplished pianist while still a child, belonged to the Toronto Conservatory Choir, and sang with the Bach St. Matthew's Choir.
Dr. Cohen was born in Russia and moved with her family to Turkey at one and a half years of age. They subsequently lived in Romania, then emigrated to the United States.
Dr. Cohen attended school in Chicago and New York. Then the family moved to Toronto where Dr. Cohen continued her studies. Possibly as a result of her extensive travels, she became fluent in a handful of languages including English, French, German, Yiddish and Russian.
After graduating from the University of Toronto medical school, she joined the staff at Women's College Hospital where she had also interned. "She chose to specialize in paediatrics," the newspaper reported, "and it's easy to understand how her warmth and gentle efficiency would be wonderfully reassuring to troubled youngsters."
Dr. Cohen has given a lot of her time as a volunteer at a free medical clinic. She was also on the board of the Social Planning Committee of Metro Toronto, the Canadian Jewish Welfare Council, the Health League of Canada, and the National Council of Jewish Women.
Her late husband, Dr. Benjamin Cohen, was the first Jewish specialist in obstetrics and gynaecology to practice in Toronto. He was chief at the old Mount Sinai Hospital on Yorkville Avenue.
The Cohens have a daughter, Ruth, who married Robert L. Green; the Greens have three children and live in Don Mills. ♦