Toronto's Policewoman Has Faith in Her Sex
Miss Mary Minty is Eager to Engage in Preventive Work — Seems Well-Fitted for Her New Position
From the Toronto Star, May 15, 1913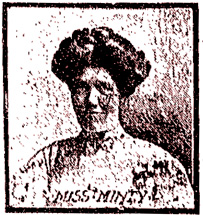 "I have received no official intimation of the appointment, and did not know I had been chosen until I saw the announcement in the morning papers. But," added Miss Mary H. Minty, referring to her appointment as the first Toronto woman constable, "I am glad I have been chosen, as it is a work that appeals to me strongly, and in which I am deeply interested."
Miss Minty came to Canada from Aberdeen two years ago, and for the past eighteen months has been at the Mercer Reformatory. She is a typical example of the finer of Scottish women. She is tall and strong, and she looks business-like and systematic, and certainly appeals to one as being very well adapted to assume responsibility.
But at the same time she has a certain simplicity of manner, heightened by her Scotch accent, which makes her appear very sympathetic and kind. Altogether, one would imagine her to be specially adapted for the difficult duties entailed by the new post.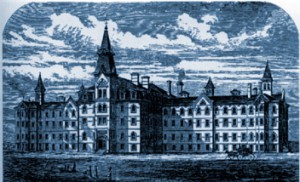 "I do not know yet," explained Miss Minty, "exactly what the work will be, but I suppose it would be largely in the nature of preventive work. I am anxious to embark in this field. From being here so long, I have naturally gained much experience from the women who are placed in my charge, and I have come to understand the subject more and more. They give me little trouble, and many, when they leave the reformatory, do well for themselves." ♦
* * *
Should Toronto Have a Woman Magistrate?
Miss Clara Brett Martin Says Girls Under 18 Should Not Be Tried by a Man
Mr. Corley Differs
Says Women Lack the Judicial Mind — Are Too Hard on Their Own Sex
From The Toronto Star Weekly, August 3, 1912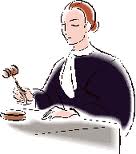 Not long ago, a woman was appointed a magistrate in Chicago for the purpose of trying young girl offenders. Would such an appointment be desirable in Toronto? Eminently yes, in the opinion of Miss Clara Brett Martin, one of the ten lady lawyers of whom this city can boast.
"I have not had reason," she told The Star Weekly, "to consider the question previously but I am strongly of opinion that it would be a good thing to have a woman magistrate to try cases in which young girls under the age of twenty-one — infants in the eyes of the law — are concerned.
"And such cases should be tried with a greater degree of privacy than is possible under existing conditions. I have often been impressed with the ability of the present method of trial — particularly in cases of a certain nature. A girl, even if she is not the defendant, but the prosecuting party, shrinks from the gaze of the crowd of people who foregather at a Police Court.
"As things are, there is a certain stigma attaching to a person who appears in a Police Court, even as prosecutor I know women who would not enter one for anything. Take the behaviour of men to young girls on the street. I have frequently seen men molest girls and the latter have refrained from complaining to the police for fear of the publicity which would ensue. Police Courts under the present method tend to harden those girls whom they do not terrify."
"I see no reason," said the Crown Attorney, "for the appointment of only men magistrates. The cases that come before the Police Courts can be dealt with satisfactorily by men. Women lack the judicial mind. They are notoriously hard on their own sex. They discriminate in favour of their own friends or families.
"When a woman is on trial, the members of her own sex will often actually gloat over her punishment. Speaking generally, I think women are wanting in that sort of diplomacy which, in these days, is a great of the lawyer's stock-in-trade, and they are inclined to suffer from nerves. . . ." ♦