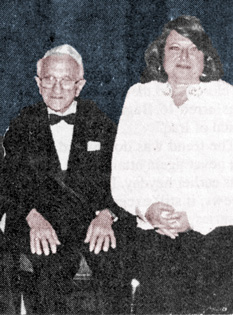 At age 100, Jack Stopper, who is known as Mr. Drildz, is a delight to talk to.
He has a remarkable recall of a century of history, as well as a keen sense of humour, despite some hearing difficulties.
He was interviewed at his home and workshop in Thornhill, where he has lived with his daughter, Rochelle Sufrin, for the past four years. He walks without a cane or a walker, and is able to climb several flights of steps.
Over a cup of tea, he was toasted with, "To 120," to which he replied, "I still have 20 years to live."
Stopper earned the nickname "Mr. Drildz" for his more than 70 years of leadership of the Drildzer Congregation and Society, formerly the Drildzer Young Men's Mutual Benefit Society.
Born in Chesterchov, Poland, on February 25, 1908, Stopper said his family moved to Drildz when he was a young child. He said he had a happy childhood, and later worked for his father, who operated a successful hat manufacturing business.
When Stopper was 22 years old, his father told him to leave Poland for Canada, as his aunt, who lived in Toronto, needed his help.
He couldn't understand why his father was sending him away, but after he arrived in Toronto in 1930, he found out that his parents didn't like the family of the girl he was seeing, "because they didn't have enough yichos [status]."
In Toronto, Stopper went to work in a hat and cap business, and later he owned and operated the Imperial Hat and Cap Company. In the basement of his home, he still has a cutting table, steaming blocks and antiquated sewing machines, and he still takes some limited orders for hats and caps.
But the passion of his life has been the Drildzer, which was formed in 1924. Four years after he arrived in Canada, in 1934 at age 26, a senior member of the organization, Chemele Bleeman, asked him to organize a young men's group, noting that most of the group's members were old, in their 70s and 80s.
"I didn't understand why they asked me, because I was the last person in the group to come to Canada as the immigration from Poland was closed down," he said.
He recalls that there were about 10 men in the organization. "In those days, we didn't count the women as members." He recalled that the women sat upstairs, and there was a hole in the floor to look downstairs where the men davened.
The membership began to grow, and over the years, the Drildzers moved several times, from Huron and Baldwin streets, then to Markham and Ulster streets, and with the help of Louis Shields, who was not a Drildzer but generously supported the organization, the group purchased its present location on Wilson Avenue just west of Bathurst Street.
"Everyone had moved up north, so we had to move," Stopper explained.
Through the years, Stopper has served as president and as a senior officer.
He said there have been many changes over the years. "Now women are full members and are active on the executive.
"We only hold holiday and Sunday morning services, which are followed by a wonderful breakfast with a family feeling. Before, it would take nine months to plan a banquet with everyone having an opinion. Now we have committees and everything goes smoothly."
He loves to spend time with his family, his two daughters, Sufrin and Ruth Greenberg, as well as five grandchildren and seven great-grandchildren.
Stopper still does things that would be amazing even for someone a quarter-century younger than he is.
"My father is still very active," Sufrin said. "He goes shopping with me and at the cottage, he rakes leaves and he uses a chainsaw to cut up the wood." ♦
This article appeared originally in the Canadian Jewish News and appears here courtesy of the author. © 2008 by Cynthia Gasner.